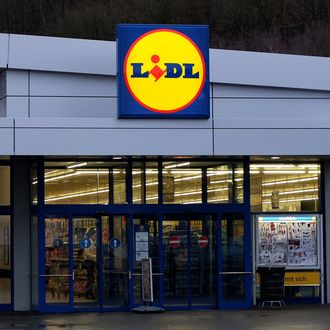 The yellow sign — learn it well.
Photo: Patrik Stollarz/AFP/Getty Images
Don't know what a Lidl is? Most Americans have no clue either, but this is about to change. Short answer is, it's a crazy-cheap grocery chain (pronounced LEE-dil) that's already disrupted the retail market back home in Germany, as well as in 26 other countries. It's now opened 10,000 stores worldwide, it stocks mostly its own house brand that sells for up to 50 percent less than rivals' products, and it arrives in the U.S. next month.
"This is the right time for us to enter the United States," the company's new U.S. CEO tells Reuters, adding that Lidl is basically the grocery-store version of a Replicant: "We are confident in our model. We adapt quickly, so it's not about whether a market works for us, but really about what we will do to make it work." The plan is to eventually (by 2020) open as many as 330 locations, but for this initial invasion — which occurs June 15 — it will just be 20 stores in North Carolina, South Carolina, and Virginia. At 20,000 square feet with just six aisles, the stores will be on the smaller side, but they'll feature enough fresh organic foods to give Whole Foods yet another formidable competitor. Another 80 are supposed to follow within the year, creating a total of 5,000 new jobs. To describe the brand to the media this week, Lidl likened itself to "a cross between Trader Joe's and Harris Teeter," a grocer found in the Carolinas. Really a very useful likeness, considering the states it picked for its first stores.

In preparation for Lidl's invasion, U.S. grocers are scurrying to drop their already historically low prices even lower — a job that must paralyze their accounting departments. For example, Walmart is trying out lower prices in 11 cities right now, after reportedly asking Unilever, Kraft Heinz, and other food suppliers to lower the cost they charge the corporation by as much as 15 percent.
Meanwhile, that other German discount grocer, Aldi, that's also new to America is trying to go even lower than Walmart, shooting for 21 percent below rivals. It's also pouring $1.6 billion into sprucing up its stores, to presumably give them "an edge," or something. Without mentioning Lidl by name, the company's president told USA Today yesterday that just generically speaking, the "competition" can never outprice Aldi: "We've seen attempts to beat Aldi prices before, and we've always been able to go lower."