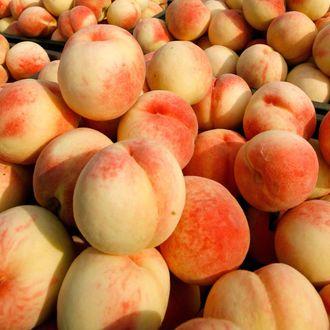 It's looking bleak down South.
Photo: Teh Eng Koon/AFP/Getty Images
Bad news if you've been waiting all winter to sink your teeth into a juicy Georgia peach: It's probably not going to be a great summer for cobblers. As usual these days, weird weather is to blame — unseasonably warm temperatures all winter, plus a fluke three-day freeze in March, destroyed a lot of this year's southern peach crop.
As the Times puts it, many trees down there were "so confused" by these growing conditions that they simply refused to cooperate, and produced no fruit at all. In Georgia, production may only reach a quarter of what it did in 2016, which was 86 million pounds. There is a chance the state could run clean out of peaches by mid-July, the time that local growers say the fruit really reaches its peak taste.

Numbers in South Carolina, where the peach is the official state fruit, look even worse: Up to 90 percent of peaches are gone, a development that could have devastating economic effects, given that they bring South Carolina about $90 million a year and provide roughly 1,500 jobs. A Clemson pomologist tells the Times this year's problem is "historically bad."
The crop looks decent in the Northeast and out in California, but this assumes you'll eat peaches that aren't from the South — Tom Okie, author of the book The Georgia Peach, speaks for many Southerners when he tells the paper that those other versions are "just symbols of peaches." To avoid slipping into a peach-inspired seasonal depression, it sounds like farmers down there are getting creative. "Let's just say we're looking forward to pecan season," one explains.