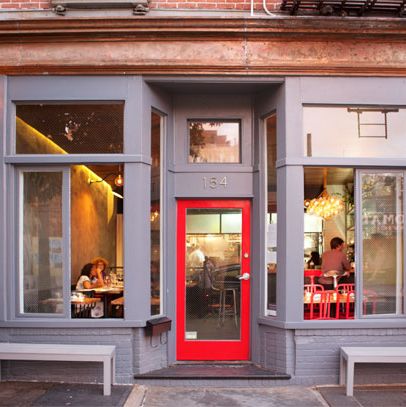 Lulu & Po.
Photo: Mete Ozeren/New York Magazine
Matthew Hamilton's lovely little restaurant, Lulu & Po, will close after dinner service tomorrow night. Hamilton's kitchen specialized in small plates with a locavore spirit and a personal touch that we described in an Underground Gourmet review as "inventively composed, deftly assembled, and completely satisfying."
L&P opened on a sleepy Fort Greene side street in May of 2012 — not a bad run when you consider that the life span of a restaurant these days, like that of a cocker spaniel, should be measured in dog years. Before anyone takes to the streets chanting the phrase "Die greedy landlords," note that Hamilton doesn't attribute the closing to an astronomical rent increase. "The restaurant just needed a little more foot traffic," he says. "It's not that we were down in business, business just never really increased. It hit a plateau in 2014 and just kind of stayed the same. We tried everything. It's just time to go."
Hamilton, who has cooked at Zuni Cafe in San Francisco, and Prune and Uovo in the East Village, plans to take the summer off to spend more time with his daughter. But don't worry that you'll never eat another DIY bone-marrow taco again: Hamilton says that cooking is definitely in his future, and that we should look out for a Lulu & Po pop-up sometime soon.