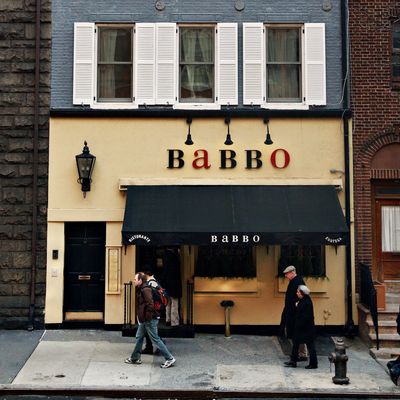 Isaac Franco Nava worked at Mario Batali's Babbo.
Photo: Daniel Acker/Bloomberg News
Babbo is under fire from an axed employee. On Wednesday, former pastry chef Isaac Franco Nava filed a discrimination lawsuit that names Mario Batali, his business partner Joe Bastianich, related businesses, and several co-workers as defendants. He alleges that he was wrongfully terminated after complaining to supervisors about being harassed by co-workers, who called him "girly," a "stupid Mexican," a "faggot," and a "pajaro" (disparaging slang for a homosexual) during work.
According to Nava, who is openly gay, two white managers and a Hispanic co-worker started harassing him as soon as he transferred to Babbo from Batali's Otto in November, 2015. His lawsuit says that after four months of "hostile, threatening, aggressive, demeaning, and embarrassing" abuse, he complained in writing to Babbo's head pastry chef. The alleged perpetrators were given a slap on the wrist, he says, and it only took a few months for the harassment to start again.
Despite several more conversations with the restaurant's head pastry chef, he alleges, nothing was done. After complaining once more on April 11, he says that his boss told him she would bring the issue to the attention of someone who could speak with Batali and Bastianich. Instead, he alleges that he was set up. According to the lawsuit, his supervisor told him to bring a raw pork chop home, as he was too busy to eat during the restaurant's free family meal, only to be fired the following day for theft. This isn't the first lawsuit that Batali and Bastianich's staff have brought against them. The restaurateurs were sued by employees for tip skimming, a lawsuit they settled $5.25 million in 2012.