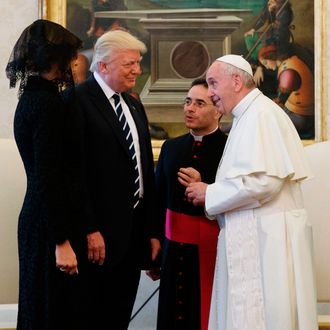 See, they're all laughing.
Photo: Evan Vucci/AFP/Getty Images
Doctors have already warned Pope Francis to cool it on the carbs, so he probably has special compassion for those souls who subsist on abysmal eating habits. Either that, or he's been waiting with bated breath to tell this one joke when he got to meet President Trump today.
After the two leaders had a 30-minute sit-down, the pontiff welcomed Melania, and apparently did it by immediately blurting out this question: "What are you feeding him, potica?"

Potica is a traditional cake that's kind of like Slovenia's version of a jelly roll. It's also worth noting that the pastry is made with a bunch of nuts instead of jam. It obviously is not healthy.
Even funnier, the translator thought the Pope said "pizza" initially. Presumably, Melania's response would have been the same either way: She laughed, said yes, and made awkward eye contact with her husband.