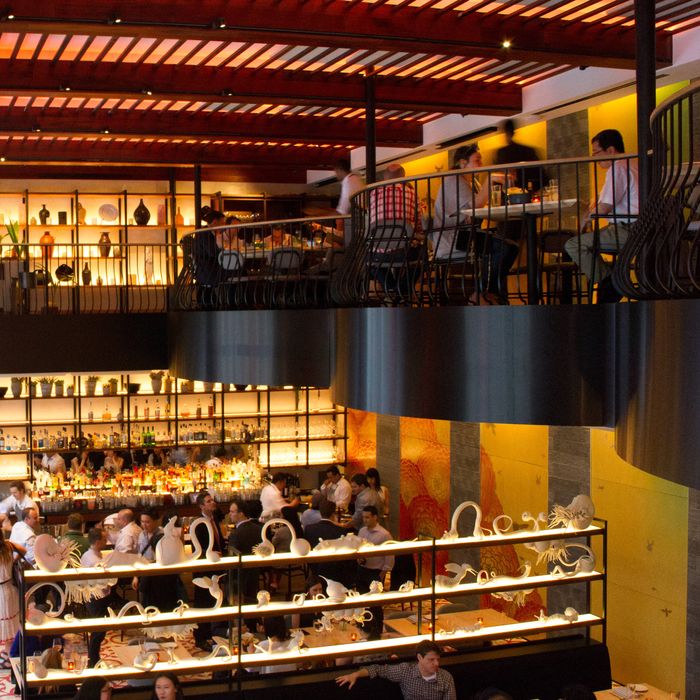 Empellón.
Photo: Jemma Hinkly/New York Magazine
Many talented chefs and restaurateurs have ridden lowly comfort foods to fame and relative fortune in this post-gourmet era, but with the possible exception of David Chang and his pork bun and Danny Meyer and his ShackBurger, few have had more success in this regard than Alex ­Stupak — in his case, with the humble taco. The much-praised, award-winning pastry chef recognized the potential of this elemental, adaptable dish early on, and since opening his original Empellón restaurant in the West Village six years ago, he's used both the taco and the classic corn tortilla as a kind of canvas to explore every angle of the Mexican (and New York) dining experience. He's stuffed tortillas with inventive fillings (short-rib pastrami at the first Empellón), served them in purist form on paper plates (to the tequila-happy hordes at Empellón Al Pastor), and built elaborate cutting-edge chef's menus around them (at the excellent, recently shuttered Empellón Cocina in the East Village).
Two years ago, Stupak published an ambitiously glossy cookbook focused on the many-splendored wonders of the taco, and now, with the opening of Empellón in midtown, next to the Tourneau store on Madison and 53rd Street, he's introducing its versatile pleasures to a larger, more general audience. Unlike the downtown outlets, this posh new Empellón features two dining levels, a private-party room upstairs, and a polished décor that (like Tourneau and Thomas Pink across the street) wouldn't look out of place in the more generically moneyed precincts of Las Vegas, Dubai, or Tokyo. The menu includes a variety of creations calculated to appeal to this new, upscale dining terroir (queso with steak tartare, a $125 fajitas made with Japanese Wagyu beef), and there's even a cart on the premises perambulated to and fro by a mezcal-and-tequila sommelier nattily dressed in a jacket and tie.
When you consider the quality and range of Mexican food available in midtown (not to mention Tokyo or Dubai), this is not a bad thing, of course. On my visits to the stylish dining room, the pleasing smell of fresh masa wafted out onto the sidewalk, and the sizable bar area was packed with after-work revelers knocking back margaritas touched with unexpected luxury ingredients (saffron, mandarin-orange juice) and smooth mezcal–based concoctions like the "Trinity," which is served straight up in a chilled martini glass and garnished with a sprig of thyme. Guacamole and chips are served with a similar flourish (with seven different salsas arranged according to level of heat), and the excellent $30 house nachos are decked with shreds of fresh crab and sea urchin flown in from Hokkaido, instead of the usual melted Velveeta and burger meat.
These elevated creations come under the heading of "Snacks" at this midtown taco joint, and you can complement them, as you sip your saffron margaritas, with wheels of the aforementioned tartare-topped melted cheese (you can also order it topped with shishito peppers instead of beef), and little candy-bar-size tamales filled with deposits of sticky rice and folded with shredded duck and red chile meticulously wrapped in squares of dried corn husk. The multitude of gourmet tacos (nine are listed on the menu) that follow are constructed with a similar flair (try the lamb sweetbreads, and the crunchy sticks of hash-brown potatoes and tomatillo ketchup), although some have a forced, overworked quality (the octopus and "savory peanut butter"), and by the standards of the genre (they're served in pairs that cost between $14 and $22), the midtown prices are not cheap.
There are a variety of non-taco starters to choose from (avocado-and-egg-white-salad toast topped with possibly too much Hokkaido uni, a slightly forced play on chopped salad made with cabbage and fava-bean dressing), but if you're in the mood for a proper after-work feed, consider heading straight to the robust "Closers" section of the menu. These big-plate selections include soft, perfectly crisped segments of pork belly plated in a great fan of chicharrón, and a nourishing stew of whiskery, head-on prawns simmered in a clay pot with chipotle. The gimmicky $125 Kobe-style-beef fajitas are worth ordering once if you're a connoisseur of beautifully marbled A-5 Japanese steak, but if you're on a more modest budget, call for the short-rib confit, which is tossed with a tangy relish of olives and peppers, and served with a stack of fresh masa tortillas on the side.
With the opening of this ambitious new Empellón outlet, Stupak appears to have reached the tricky, rarefied threshold where business and empire-building skills become just as important to a chef as cooking talent, and judging by the buzz in the room, he's off to an auspicious start. Like most restaurants in the neighborhood, the crowd tends to thin out after happy hour, but if you have the time, I recommend you linger over the desserts, like the endlessly Instagrammed avocado, which has the uncanny look and texture of the real thing but turns out to be a cool avocado parfait. The lustrous chocolate mousse is poured, for an extra-subtle kick, with cold-brewed chicory coffee, and if you're looking for something to accompany that glass of after-dinner mezcal, try the citrus tasting comprising bite-size lemon, lime, grapefruit, and orange treats, all laid out, in proper uptown style, on a large salver of crushed ice.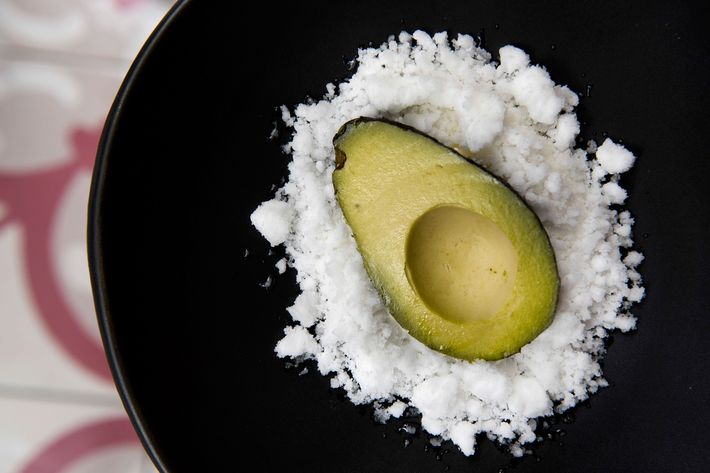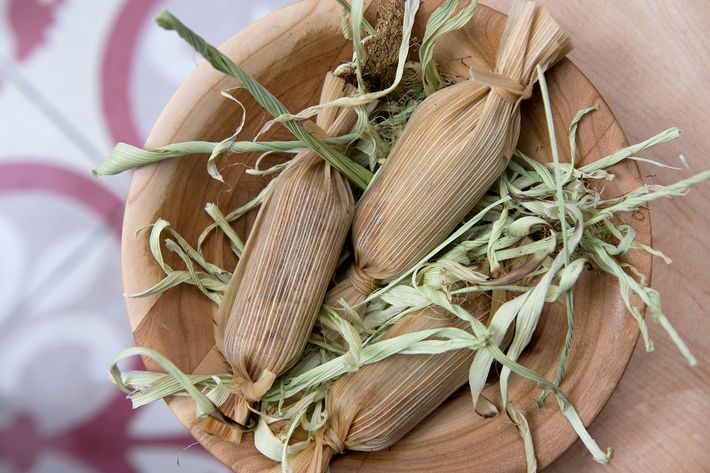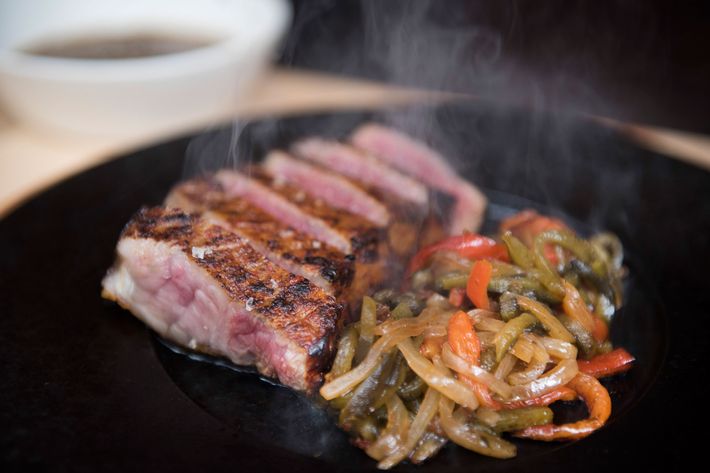 Empellón
510 Madison Ave. (entrance on 53rd St.); 212-858-9365; empellon.com
Ideal Meal: Sticky-rice tamales and/or crab nachos, tacos (lamb sweetbreads and barbacoa, pastrami, hash browns), crispy pork belly or roasted red prawns, chocolate mousse and/or avocado.
Note: The $35 lunchtime prix fixe at this upscale midtown taco joint includes a starter, choice of tacos, and dessert.
Open: Lunch and dinner daily.
Prices: Appetizers, $3 to $30; entrées, $29 to $125.
Scratchpad: One solid star for the service, style, and elevated Mexican cooking, and another for the intoxicating tequila and mezcal drinks and the desserts.
*This article appears in the May 29, 2017, issue of New York Magazine.