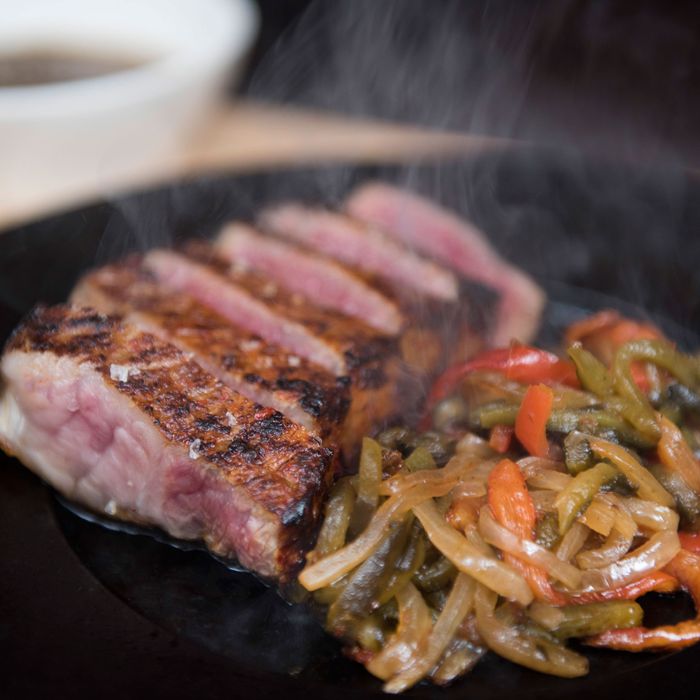 The Japanese A-5 beef is among the very best beef in the entire world.
Photo: Liz Clayman
Adjusting certain dishes to a new dining terroir can be a challenge for even the most ambitious and accomplished chef, but if anyone's up to adapting the simple taco to the assorted expense account gourmands who prowl the glittering towers of midtown Manhattan, it's Alex Stupak. That's what I thought as I strolled past the giant, glittering Rolex dealer on Madison Avenue, and caught the pleasurable scent of fresh-made masa wafting out over the sidewalk.
The latest addition to Stupak's Empellón empire, which has been open for several weeks now near the corner of Madison Avenue and 53rd Street, and is the first to open north of 10th Street, boasts a mezzanine level, where you can nibble on tubs of fresh-made guacamole served with fans of crisp tortilla chips and seven types of salsa arranged on the table, helpfully, from mild to hot. There's also a large area on the ground floor jammed with thirsty members of the après-work crowd, sipping cocktails touched with all sorts of interesting ingredients (saffron, mandarin oranges, tamarind). If you're in the mood for something slightly stiffer, a sommelier dressed in a natty suit will introduce you to the pleasures of the house's mobile "mezcal cart," which also features tequila aged in old Pappy Van Winkle barrels and slices of imported Mexican oranges dusted with "worm salt," which, our sommelier informs us, is made from the ground-up husks of a certain kind of worm that inhabits the agave plant.
Before the cart rolls around, my tasters and I sample a platter of delicately rendered nachos, which the kitchen at this upscale taco joint dresses with fresh crab and dabs of uni imported, just like in the grandest Tokyo sushi bar, from the chilly waters of northern Japan. There is also a disc of gooey melted queso cheese in the early barrage of luxury bar snacks (which you can get dressed with shishito peppers or a delicious layer of soft steak tartare), along with a pair of tacos filled with lamb sweetbreads, and delicately sticky rice tamales, laced with a spicy mash of chile and ground duck, each of them individually wrapped, like savory candy treats, in corn husks imported from Oaxaca.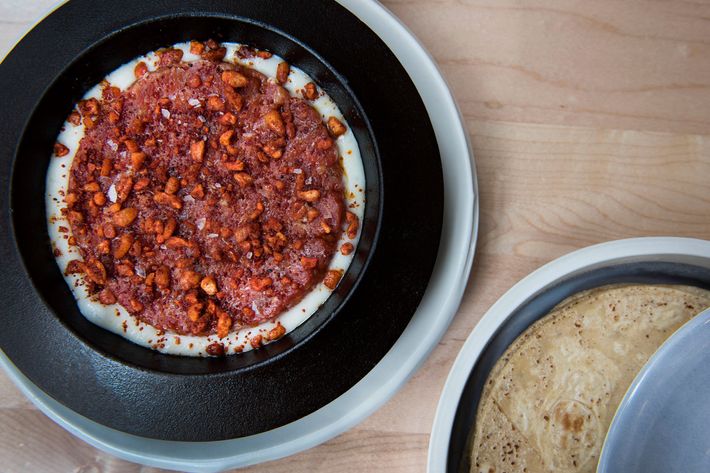 Stupak was a superstar pastry chef before he got into tacos, and he's on record as saying that while creating Instagram memes is good for business, a successful restaurant can't survive, these days, unless it establishes itself in the neighborhood. But this particular version of Empellón is clearly (and cannily) designed to be replicated in high-roller hot spots like Vegas and Tokyo, and the most aggressively calculated high-roller creation of all is the "A-5 Fajitas," which lists on the menu for a cool $125.
"A-5" refers to the highest grade of grade-A, Japanese Kobe beef, in case you don't know, and when I ask politely whether the beef is actually the real thing (it often isn't), the friendly fajita server presents the table with an "Animal Background Certificate of Authentication" that includes, among other things, the "Carcass Number" (631), the "Beef Marbling Score" (10), the "Cattle Origin" (the epicenter of Japan's Kobe beef culture, Miyazaki prefecture), and even an image of the doomed animal's nose-print, which causes the sensitive vegetarian at our table to look away in horror.
So: Does this exotic, gimmicky trophy dish live up to its lofty uptown sticker price? Probably not, but on first (and possibly last) taste — with apologies to vegetarians everywhere — it has its pleasures, in particular, the perfectly seasoned Kobe beef, which is seared on a sizzling platter at the table, melts gently in the mouth, and is so rich that you may not want to bother with the other fajita ingredients (masa tortillas, a slightly dreckish black-pepper mole, onions and peppers folded with rendered Kobe beef fat). After blowing this kind of cash, you may not want to bother with the esoteric pleasures of the mezcal cart, either (at least on your first trip), or even the elegant, highly photogenic house desserts, which include a bracing selection of citrus treats served on a tray of crushed ice and a decorous little parfait that looks uncannily like an avocado.