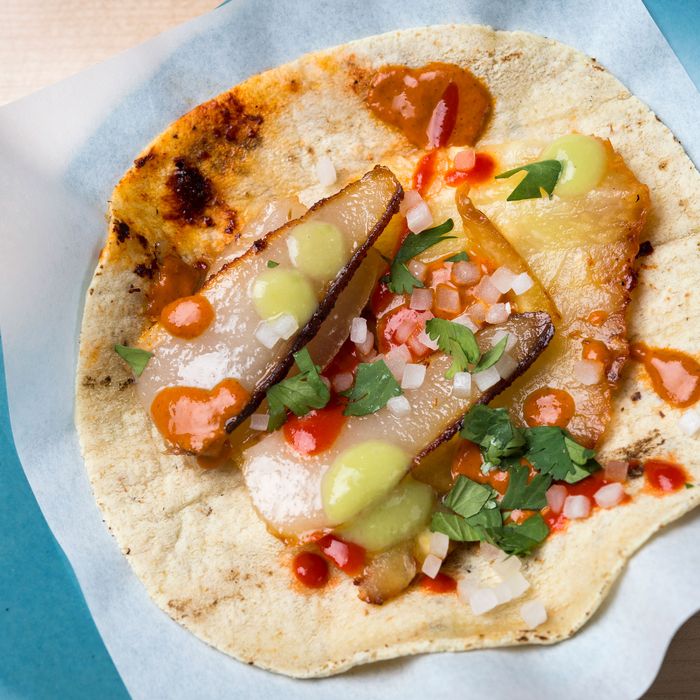 The "reverse al pastor tacos" from Empellón Cocina.
Photo: Evan Sung
Alex Stupak opened Empellón Cocina, the second location of his local empire, in the East Village in 2012, less than a year after the West Village original. Since then the restaurant has seen a series of changes. Initially, Stupak made a statement by not even serving tacos. Then, the chef transformed Cocina into a more casual restaurant — adding tacos with fillings like head cheese and fried smelt. Stupak also launched the Push Project: a series of collaborative dinners with renowned chefs like Grant Achatz, Rick Bayless, and Albert Adrià.
Apparently still not content in the spring of 2015, Stupak remodeled the dining room and introduced an 18-course tasting menu at a tasting counter. At the time, it seemed that Stupak, who first earned name recognition as the pastry chef at wd~50, had found something of a groove, mixing cooking that was personally challenging with an à la carte menu to fit the East Village neighborhood.
But on the heels of the opening of his fourth Empellón — perhaps his most ambitious project yet in midtown — Stupak announced today that he's closing Cocina. The last service will be this coming Saturday, May 20. In an open letter, he says there isn't a greedy landlord to blame; he takes personal responsibility for the closing:
Cocina was originally envisioned as a fine dining restaurant in the true sense of that term. Out of ego, the restaurant was executed in a very fast and cavalier way. (It was serving customers when our first restaurant in the West Village was only 11 months old). Taqueria was profitable in week 2 which is unheard of in this business. We took the money and doubled down fast and hard. There wasn't what I would call a solid plan in place retrospectively.

He adds, "It all felt wildly incorrect." Still, this doesn't mean he's turning his back on the original idea. In fact it sounds as though Stupak plans to move Cocina to new location, with a new idea: "Fine dining is still very much in my heart and I still very badly want to build the Empellón version of it one day," he writes, hinting that an Empellón tasting counter is in the cards. In the meantime, he instructs, don't become "annoyingly sentimental" about this closing.
Update: Stupak tells Eater's Ryan Sutton that he's moving Cocina's chef's-counter tasting menu and his entire staff to the midtown location.