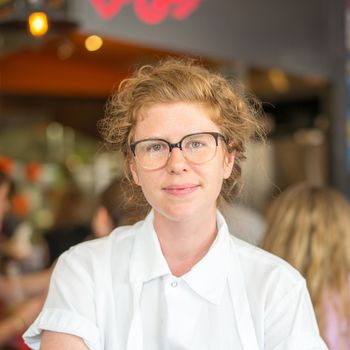 Emily Seaman was an integral part of Dizengoff's success.
Photo: Courtesy of Dizengoff
As the chef of Michael Solomonov and Steve Cook's hugely popular Dizengoff, Emily Seaman helped turned the Philadelphia restaurant into a budding chainlet and the hottest name in hummus on the East Coast. But after three years of baking pita and blending chickpeas, a rep for the restaurant confirms that Seaman has left Dizengoff to attend graduate school.
While she wasn't Dizengoff's public face, Seaman was an integral part of the operation from the start. She started working under Solomonov at the nationally acclaimed Zahav, and was tapped by the chef in 2014 to open the original Dizengoff in Philadelphia. There, she was responsible not only for running the kitchen but also for creating a menu that soon became obsessed over. When Solomonov and Cook opened an outpost in Manhattan, Seaman relocated to New York to launch the first Dizengoff outside of Philadelphia, an opening that created a lot more buzz than chickpeas normally warrant. Now, Seaman's successor is Lissadell Cohen-Serrins, another alum of Philadelphia's Dizengoff and Zahav. All in all, the parting sounds amicable, with Solomonov and Cook telling Grub in a joint statement that Seaman "was a huge part of our opening success, and we will be forever indebted to her creativity, leadership, and drive."