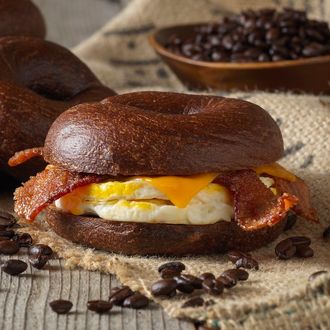 It's a full "sensory experience."
Photo: Einsten Bros.
This morning, the bagel chain Einstein Bros. released what it's billing as the "world's first caffeinated bagel." Called an Espresso Buzz, it contains 32 milligrams of caffeine, which is about a third of what you'd get in a shot of espresso or an eight-ounce cup of normal coffee, according to the USDA.

Einstein tells Fox News it spent about nine months developing this thing. Head of marketing and research Kerry Coyne believes the item will help the chain ride the "fourth wave," the somewhat dubious industry term for a category of coffee that isn't by Folgers or Maxwell House (first wave), Starbucks or Peet's (second wave), or an artisanal roaster like Stumptown or Blue Bottle (third wave). (Think Silicon Valley start-ups like Bulletproof that are trying to "disrupt" coffee.) Fox News adds that it's sure the bagel "will be a hit with tired hipsters across the country."
The kick comes partly from espresso, partly from coffee-cherry flour. Einstein isn't saying what exactly is in the recipe, but Fox News notes the bagels also have 13 grams of protein derived from cocoa, which would also contribute caffeine. Fox conducted a taste test with some samples, and the reviews were pretty mixed: Some people were pumped to have a two-in-one breakfast option, but others regretted how "insanely bitter" the espresso was on the palate. One individual observed that it "tastes like chewy coffee, and I'm not sure that's a good thing." If that's the case, maybe Einstein should rework the bagel so it appeals more to hard-core caffeinators, who won't care how it tastes anyway — something an additional 500 milligrams of caffeine and some Instagram-friendly black food dye in the dough would fix.