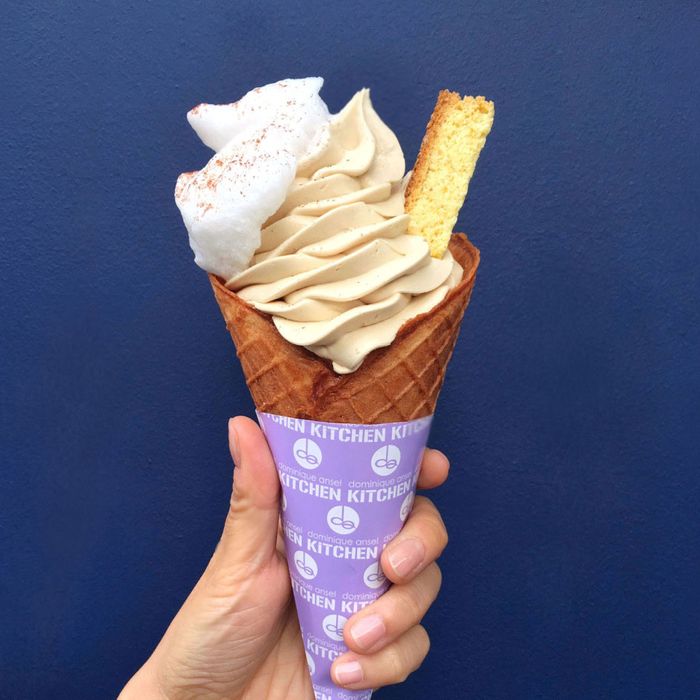 Post-Cronut, almost anything Dominique Ansel touches turns into a megahit, and when you combine that with the growing market for cold-brew coffee, you can expect his latest ice-cream flavor to land big.
On Wednesday, May 24, the soft-serve window outside Dominique Ansel Kitchen will open for the season (on Wednesdays through Sundays only), and in addition to his signature burrata soft serve, Ansel's serving a cold-brew flavor, topped with crunchy anise biscotti and milk foam that's dusted with cocoa powder.
The preparation process spans two days. "We take our housemade milk base and infuse the coffee flavor into the milk overnight," Ansel explains. "It takes another night to strain it, and then we mix it with our base and let it rest for 12 hours." But he's not using ordinary coffee powder, of course; the team makes their own cold brew, using a special blend of La Colombe beans. "It has a deep coffee flavor — it's like drinking a nice glass of cold brew," he says. "It's completely different from coffee ice cream: richer when it comes to flavor, without being bitter or sour. It's a good, clean coffee taste, that's how I'd describe it."
This cold-brew flavor, which costs $7.25 for a cone with all the fixings, will only be available in late May and June. In July, the bakery will rotate to white-peach ice cream with salted pistachios and lavender honey, and in August, dark-chocolate olive-oil soft serve with fig agrodolce and sea salt. But Ansel says if cold-brew ice cream is a hit (and how could it not be), he'll consider bringing it back in September. Even Ansel, who's surrounded by sugary treats all day long, is partial to it: "I was only supposed to have a spoon, but I finished the whole thing," he says.