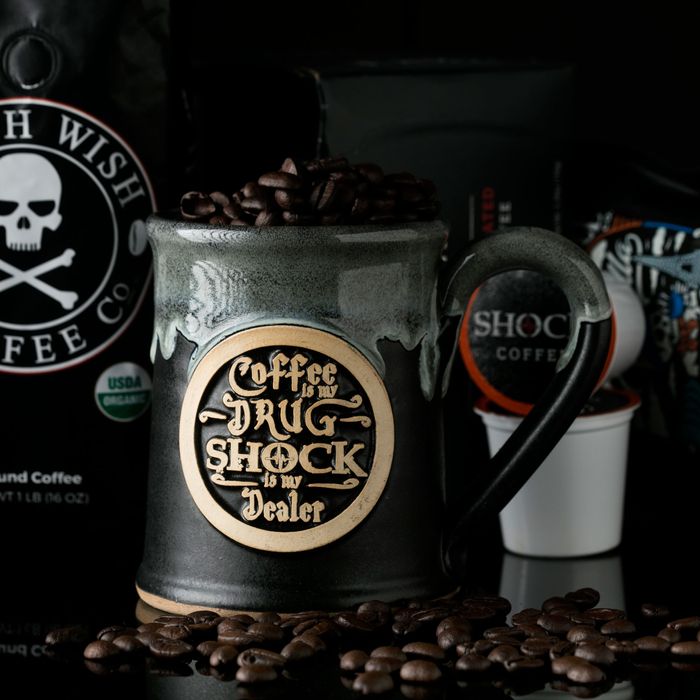 The branding is equal parts Folgers and Jackass.
Photo: Melissa Hom
We are in the midst of an all-out caffeine arms race. Coffee companies around the country are vying to produce the world's "strongest" coffees, full of caffeine and, ostensibly, a richer flavor. Brands like Death Wish, Black Insomnia, and Shock seem interchangeable — they all have jet-black bags, hypermasculine branding that's equal parts Folgers and Jackass, and claim borderline-dangerous levels of caffeine in their products — but how do they actually compare? To find out, Grub Street recruited Joe Coffee owner Jonathan Rubinstein, director of roasting Ed Kaufmann, and barista trainer Christopher Malarick for a taste test.
The Coffee: Shock Coffee ($14 for a one-pound bag)
The Claim: "The strongest caffeinated all-natural coffee."
Shock is vague about the actual caffeine content in its coffee, but the company says a cup is generally 50 percent more caffeinated than regular coffee. This is a blend of arabica beans, which are typically used in high-quality coffee, and robusta beans, which are more bitter, but pack a higher caffeine content. The actual beans are black, oily, and smell a bit like burnt popcorn — the darkest roast that Rubinstein says he's seen "in years." As for the flavor, that burnt-popcorn aroma was telling. After brewing the coffee via Chemex, the tasters were uniformly unimpressed. "I just taste burnt tires," Rubinstein says. "The sides of my tongue right now? Char. It's like the aftertaste of rubber."
The Coffee: Bones Coffee High Voltage ($20 for a one-pound bag)
The Claim: "The strongest, greatest tasting coffee you'll ever drink."
The people of Bones, which according to the company's Twitter account is based in "Florida, USA," claim their High Voltage brand contains "twice the caffeine content of your average joe." Yet unlike the other companies we tasted, Bones doesn't specialize only in high-octane coffees — they also make variations like "Jacked O' Lantern" pumpkin spice, peanut butter and jelly, and a salted-caramel flavor that features a skeleton Salt Bae on the bag.
It's somewhat surprising that the beans are some of the least offensive we encounter. The taste follows through on that. "There isn't anything about it that is singing to me," Rubinstein notes, "but my mouth is not repulsed." Malarick, meanwhile, compares it to airplane coffee. "Add milk," Rubinstein says, "and I could drink half a cup and feel like I'm having coffee in 1983."
The Coffee: Death Wish ($20 for a one-pound bag)
The Claim: "If this isn't the strongest coffee you've ever tried, we'll gladly give you a refund."
Death Wish is a five-year-old company that got its start in Saratoga Springs, New York. After winning a small-business competition, the company earned a 30-second commercial spot during the Super Bowl. With 105,000 followers on Instagram, it now appears to be the market leader.
Technically, the coffee isn't the most caffeinated on the market. I asked a company rep about their continued claim that they're the "strongest" coffee on the market, and received this reply: "Note, when we say 'strong,' we're not only referring to the caffeine, but also to the flavor and body of the coffee." As for the actual flavor and body, here is a snippet of the conversation that followed our initial tasting:
Rubinstein: "Oh my god! Oh my god! What does your mouth feel like right now?"
Malarick: "It's like I'm hooked up to a car battery. It's sort of rubbery."
Rubinstein: "It makes my tongue literally tingle. It reacts. My tongue is reacting."
Malarick: "It's really inky."
In the end, none of the coffees impress — or even make the tasters feel all that jittery — but it's probably true that for people buying these products, expressly because they're marketed as the world's strongest, the flavor might be completely beside the point. "I think there's almost like a pseudo-masochistic element to certain people's coffee habits," Malarick notes. "The fact that it tastes bad is part of the pride."