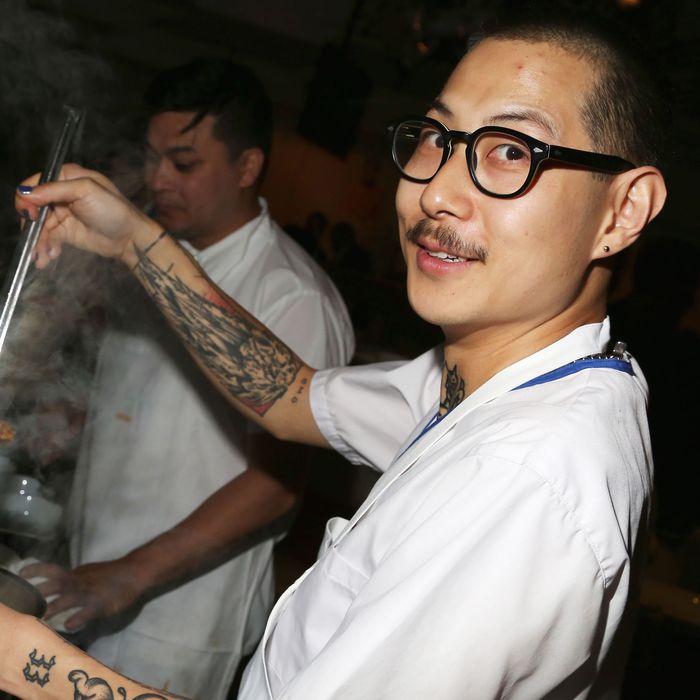 Bowien has to respond in 30 days, or he'll have to automatically fork over the money.
Photo: Sylvain Gaboury/PMC
Danny Bowien's Mexican-ish restaurant Mission Cantina never caught on the way his bicoastal smash hit Mission Chinese has, and after three shape-shifting years, the chef closed it in December. Running a profitable business in that pricey Lower East Side location proved to be a problem for the chef, but those problems didn't end when the shutters rolled down one last time. Back in April, Bowien's landlord took him to housing court, where he agreed to pay an $80,000 settlement and was forced to surrender the storefront and its equipment. Then on May 8, Bedford + Bowery reports, Mission Cantina investor and former Trump Organization vice-president Scott Kasen filed a lawsuit against Bowien.
In his lawsuit, Kasen alleges that he owns 33 percent of the company and provided $333,000 of the restaurant's $390,000 starting capital. (He's named on the restaurant's liquor license as a principal, alongside Bowien, Mission Chinese founder Anthony Myint, Frankies co-founder Frank Falcinelli, and others.) Kasen says that Bowien violated their contract, and accordingly must now pay him $426,000 by June 30. More problematic for the chef is that the investor alleges that a clause in their contract stipulated that if Bowien lost his collateral (the storefront), he'd have to hand over the money immediately. The chef also allegedly gave up his right to a trial by jury, so the decision will be made by the court; and if he doesn't respond in 30 days, he'll be held responsible for the money. It's a sharp turn south for Bowien, after the recent announcement that he'd be starring in the next season of The Mind of a Chef.