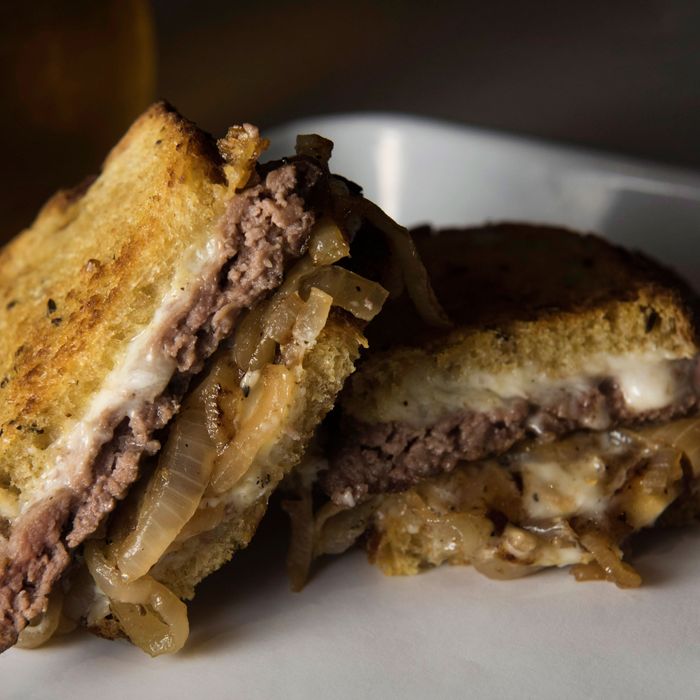 Daily Provisions' patty melt on house-baked rye.
Photo: Liz Clayman
What may go unnoticed about Daily Provisions, Danny Meyer's all-day canteen located next door to his Union Square Cafe, is that it was designed to be just as much a showcase for the Union Square Hospitality Group's house-baked breads as it was to be a place to grab coffee and a quick bite. So when Meyer and chef Carmen Quagliata sat down with the kitchen crew to brainstorm some recipes for the new dinner menu, scheduled to debut Wednesday, Meyer gazed over at all those excellent loaves made from locally grown, house-milled grain residing on the retail shelves, and thought, Why don't we do a sandwich with our salted caraway rye?
A few rye-forward sandwiches were brought up for discussion, including the Reuben, but ultimately that old diner classic, the patty melt, won out. The new patty melt, which has been available as a verbal special for a few days now, is rich and crusty and properly messy, and boasts not only a four-and-a-half-ounce dry-aged Pat LaFrieda beef patty, but an extra-gooey high-low combo of American processed and Narragansett Creamery's Crescendo cheeses — plus, of course, a pile of griddled onions.
Funny, though, that the sandwich doesn't come on the aforementioned salted caraway rye. After much experimentation, Project Patty Melt deemed the rustic loaf to be a little too dense and "artisanal" for their purposes. The "light rye" they use for grilled-cheese sandwiches didn't work either. So, they did what any bunch of sandwich obsessives would do and created a brand-new rye bread that is "like the love child of our salted caraway rye and our light rye," says Quagliata. "We call it our patty-melt rye."
Update: Due to technical issues with kitchen equipment, Daily Provisions will not debut dinner tonight, as previously stated.