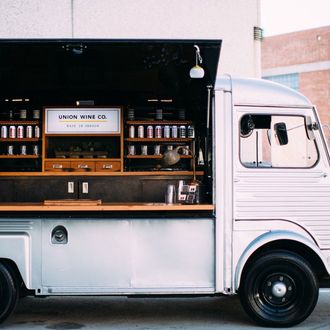 Your potential office.
Photo: Courtesy of Union WIne Co
The only thing that beats drinking wine in the middle of the day like it's your job is drinking wine in the middle of the day because it's your job. An Oregon winery could make this paradox a reality for you if you're willing to abandon your career for a summertime marketing position. Union Wine Company — the maker of those Underwood wine cans you see everywhere — is looking to hire an official brand "Canbassador" who's not opposed to the idea of visiting various music festivals, outdoor events, and whatnot this summer with a bunch of its cans in tow.

The job posting on its website explains that the full-time gig will go to one qualified applicant who's "outgoing," "organized," and convinced that "living in a van is cool." This isn't like a Toyota Sienna or whatever, though — the Canbassador cruises around in a sleek 1972 Citroën "mobile wine bar," with vintage light fixtures and a pencil cactus. He or she will need to be good on social media, naturally, as well as able to work months on the road, handle on-the-job stress, and "lift 50lbs repeatedly." Being 21 years of age and having a healthy appreciation for wine couldn't hurt things, either.

If that sounds like a #lyfegoal, you'd better apply fast, because the company is only accepting applications until May 7.