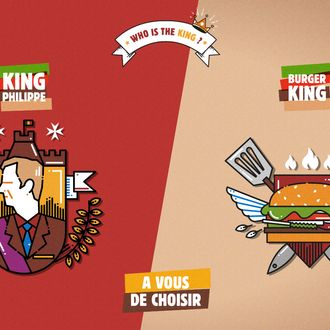 Could go either way, really.
Burger King is entering Belgium for the first time later this summer, and in anticipation, it's launched a big ad campaign to get people talking about the brand. Nothing unusual about that by itself, but the ad isn't exactly making the burger chain out to be the most loyal new subject of the Belgian throne. That's because, technically, it's a spoof poll asking people to vote for whether King Philippe — recognized as Belgium's reigning monarch — or Burger King should be the "true ruler of the country."
Visitors to WhoIsTheKing.be are greeted with this Game of Thrones–y welcome message: "Two Kings. One crown. Who will rule?" Burger King invites you to vote for your favorite, then tune back in on June 19, when King Philippe will either keep his crown or be deposed in favor of a plastic-faced fast-food mascot. If you aren't into the dumb humor and/or possibility of committing treason, and you try to select King Philippe, the screen says: "Are you sure …? He won't cook you fries." Pick yes again, and you'll get a screen asking if you're 100 percent sure about this — if so, it then suggests you visit King Philippe's house unannounced at 11 p.m. tonight and see how that goes. If you still remain firmly anti–coup d'état, you'll get a third screen asking if you're definitely sure about being so sure. The yes button ("Ja") will then move away from your cursor as you try to click it.
The monarch's representatives don't think it's that funny. They asked Burger King yesterday to essentially explain itself: "We told them that we were not happy with them using an image of the king in their campaign," a rep told Reuters, explaining this was illegal anyway, since Belgium prohibits using the king's image to sell commerce. Burger King's Belgian arm says it is "deliberating on how to proceed," but somewhat hilariously hasn't committed to making any changes yet. This may be Burger King's chance to bargain for a royal edict officially decreeing Mac N' Cheetos as Belgium's national dish for perpetuity.