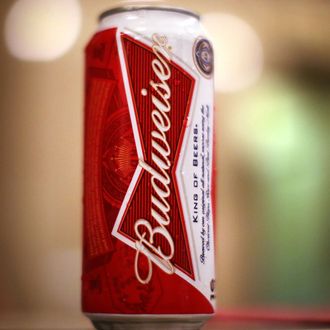 Basically a craft brew now.
Photo: Spencer Platt/Getty Images
Beer colossus Anheuser-Busch InBev says it's investing $500 million to improve Budweiser's brewing and shipping operations. As a result of this, consumers can look forward to "fresher"-tasting Bud Selects and Bud Light Lime-A-Ritas. The move is part of a larger $2 billion investment, and also includes a $28 million update to AB InBev's brewery in Fort Collins, Colorado, allowing that facility to dry-hop beer, a process that adds a hoppier aroma and is a hallmark of IPAs. It's unclear which beers produced there will get this treatment, but it won't be Buds or Bud Lights. To improve these, the company will rely on a different trick: $82 million spent to build new distribution centers in L.A. and Columbus, Ohio, that cut the time it takes to ship beer around the country. "Less handling" means "more freshness," the company's VP for supply explains.
AB InBev's other plan to keep younger consumers from abandoning its products in droves is apparently to give them more "near beers" — things like SpikedSeltzer, the alcoholic sparkling water it acquired last September. It seems like pandering to blue-collar workers will continue apace in the meantime as well: CEO João Castro Neves is conveniently hyping how Budweiser is already making America great by adding lots of jobs — 2,500 over the last four years, by his count. That's a "huge vote of confidence" in "the future of American brewing," he says, since 98 percent of the beer they sell in the U.S. is also made in America. And who knows, Castro Neves apparently told reporters on Monday, "maybe more to come," if President Trump ever successfully slashes the corporate tax rate.