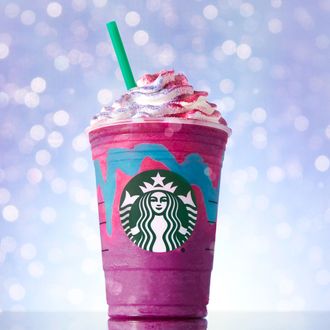 OG unicorn.
Photo: Starbucks
Didn't like the Unicorn Frappuccino? Too bad! It's going to haunt you long after vanishing from your Instagram feed. In fact, just last week on an earnings call in which CFO Scott Maw uttered the words "the incredible, Instagrammable success of the Unicorn Frappuccino," Starbucks executive chairman Howard Schultz told investors to "stay tuned because we have a lot more coming." New CEO Kevin Johnson chimed in, too, promising "at least one" entirely new drink that's "going to be as good as Unicorn or better."

The problem is, Starbucks customers aren't a super-patient bunch, and they want their Day-Glo Frappuccinos now. Since the Unicorn Frap went AWOL, more resourceful fans have DIYed their own Dragon Fraps, Pink Pegasus Fraps, Narwhal Fraps, and Mermaid Fraps, the latter of which has a white mocha–coconut–matcha drizzle so complicated that the blogger Starbucks Melody warns that your barista may simply refuse to make it:
Not letting dignity stand in the way of social-media likes, Dunkin' Donuts now has its own wild-colored copycat, something people have termed "Unicorn Water" or "Mermaid Water." It's actually a drink the chain warned was coming when it announced that it was replacing Coolattas with Frozen Dunkin' Coffee. The real name is Dunkin' Energy Punch, and it's a whole can of Monster Energy mixed with blue-raspberry syrup on ice. The nickname must come from the fact that when you combine those two substances, the result is a bubbly fluorescent-blue fluid that probably glows in the dark:

In the right light, they look so fun, but the Unicorn Frap is a 60-gram sugar bomb, and Dunkin's version takes that to near-mythical levels. The chain didn't post nutrition facts, but estimating the amount isn't impossible, since it's part 16-ounce can of Monster (54 grams of sugar) and part Dunkin' Fruit Punch Coolatta (120 grams of sugar, for a large size). Definitely not the healthiest thing out there, but your health is a small price to pay for "likes," right?