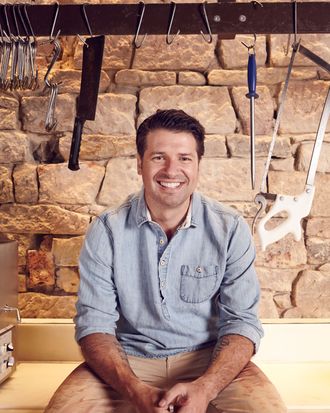 Anthony Puharich.
Photo: Courtesy of Churchills Meats
Bourdain Market might be the most anticipated New York food project in history. Two years ago, Anthony Bourdain revealed his intention to transform a 155,000-square-foot stretch of Meatpacking District SuperPier into a wonderland of street-food specialists and high-end purveyors. As you might expect from a project this ambitious, there have been some public setbacks: The opening was pushed back to 2019, CEO Stephen Werther left the project, and as of late March, Bourdain reportedly had yet to sign an actual lease on the space.
Still, Bourdain's public wish list of tenants is impressive, and includes spots like La Guerrerense, a tostada cart from Ensenada; Singapore's Geylang Claypot Rice; and Mak's Noodle from Hong Kong. At the moment, however, only one person is confirmed to join the project's roster: Anthony Puharich, a fifth-generation meat-packer who runs one of Australia's premier meat distributors (Vic's Premium Quality Meat), who, in 2009, bought Victor Churchill, a 19th-century butcher shop that's now known as much for its gorgeous interior as for its pristine beef. In other words, if there's a Pat LaFrieda of Australia, Puharich is it. Recently, Grub sat down with him to talk about Aussie steaks, the appeal of opening in New York, and what's happening with Bourdain Market behind the scenes.
You toured the Bourdain Market site for the first time in March. Was that before Stephen Werther departed the project?
Stephen was already out of it a few weeks. David Swinghammer's been the main contact for me. David is the gentleman who worked with Danny Meyer to make Shake Shack a billion dollars, and David Lee is the operational person. I met with them, and they took me to the site, and we had a look around. As fate would have it, it's in the Meatpacking District! The site's an amazing one.
How did Bourdain approach you about the project? When Bourdain Market was first announced in 2015, there were three confirmed names: Ken Friedman, April Bloomfield, and you.
The first time Tony came to Australia, we became friends. In August 2015, he rang me up, and he told me about Bourdain Market. He explained his vision for the space that he secured, and asked if I'd like to be involved. My answer to his question was a quick one. However, I had to go back to my parents for their support, and they took a little bit longer. They struggle with the notion of managing a business here [in Australia], let alone managing one overseas, but Tony turned them around.
How'd he win them over?
He rang them personally, which was amazing. He eased their mind by saying he wasn't just putting his name to this. I'm not knocking celebrity chefs, but they put their names to kitchen knives, blenders. He's never put his name to anything, and it's the first time he lent his name to an opportunity like this. He told them about the full vision he had. He wanted to create a hawker-style market, and a produce market with fish and meat and butchers, but still traditional. My parents loved the idea of it, and they agreed. The rest is history, as they say.
What's the status of the project right now? Now that you've toured the site, what's the next step? Do you draw up blueprints? Hire a designer?
That's the process we're up to. The purpose of the trip was to get the ball rolling, in terms of understanding the space, the vision, the whole planning process. Tony and his team, they're creating the vision.
Do you know where your shop will stand? Did they point at a blueprint or a hole in the ground and say, "This is Victor Churchill"?
I'm at the front of the market, and down toward the back is where the hawker stall vendors are. Our space won't be like Victor Churchill at all. I get a sense that the space is about transparency and openness, and how what was traditionally back of house is being put front of house. They've been working with Roman and Williams, very well regarded designers, to create the space.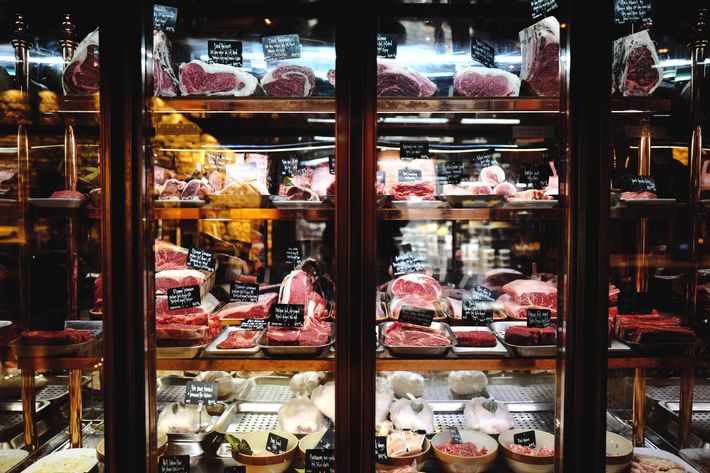 So there are no up-front costs for any of the vendors?
Tony's giving me the opportunity, he's financing the opportunity, and we're bringing our brand. We're not out-of-pocket until it's open, but in terms of the whole thing, it's my concept.
Have you thought about how to re-create a "local" experience in New York? Will you import all of your meat?
Something we're working on, that's very unique to our store in New York, is the idea of bringing the best of what Australia produces, then to source and find the best of what North America has to offer in beef and pork and lamb. From our point of view, the beautiful thing about New York and America is how they're open to sourcing from Spain, Italy, Japan. So this is why I'm really excited. It's literally having the most comprehensive range of product in the whole world, and making all of that available to New Yorkers to buy. It's not about forcing Australian meat down the throat of New Yorkers.
Will there be a dining component, too?
It's preliminary, but we'll have an area where you can sit down and enjoy a glass of wine, and have a terrine or parfait or San Daniele prosciutto. There will be a bar area where we can offer certain meats cooked to order. It won't be a restaurant, more like eight to ten seats. It'll be very intimate.
When you hear about setbacks, or skepticism around Bourdain Market, do you worry that the project might not actually come together?
It's been a long gestation period. It's slated to open spring 2019 — so, yeah, it was meant to open a year before that. I respect [departed CEO] Stephen Werther, and my dealings with him were all very good, but what I bought into was Tony's vision, and what he wanted to create. He's the person I have the relationship with, and he's the person I trust.
Tony does keep things close to his chest. That's his approach, and that's the way he prefers it to be. He's happy to let me talk about things openly, but he doesn't share everything with me. I'm a vendor, an important piece in the puzzle, but it's a very big puzzle. He lives in New York and there's his reputation at stake. I'm sure it weighs heavily on him.
If for some reason Bourdain Market doesn't come together, or succeed, do you still plan to stay in New York?
Rather stubbornly, I've had this aspiration that if I ever opened a store outside of Australia, it would be in New York. It's the biggest global stage in the world, and a huge challenge, and it's the challenge that interests and excites me. If I have to wait another eight years, that's fine. I'm in a good place financially. My motivation for doing this is not primarily financial, and I want whatever I do to be successful, so I'm stubbornly holding on.
This conversation has been edited for length and clarity.