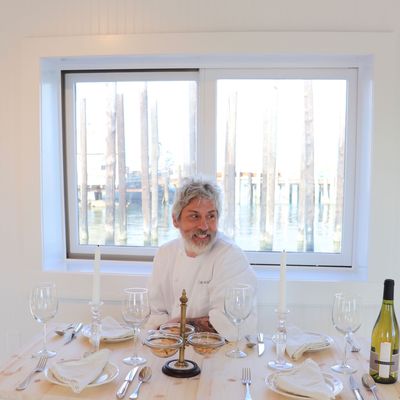 Frank DeCarlo, inside the dining room of Barba Bianca.
Photo: Courtesy of Barba Bianca
For nearly two decades, Frank DeCarlo has run Peasant, the Elizabeth Street Italian restaurant with a wood-fired oven and a very devoted following. While DeCarlo has expanded, he's hardly an empire builder. In fact, a new restaurant opening in a couple weeks will be only his third. That restaurant, Barba Bianca — "White Beard" — won't even be in New York City. It's in Greenport, on Long Island's North Fork. Grub got on the phone with DeCarlo to talk about the new spot, living the good life out east, and what it took to run one of Manhattan's most charming restaurants for the last 18 years.
First, congratulations on opening.
Thank you.
Are you done? Just waiting for the season to start and customers to show up?
No. I'm actually spraying 100 chairs right now that were black, and they're about to be white. I'm not done yet. We won't be open before Memorial Day. Probably a week or two after, I'm guessing.
So what, besides white chairs, can people expect?
Do you know the space? You know where Claudio's is?
Of course.
If you're at Claudio's, looking at the water and Shelter Island, this is to the left. It's a big, red barn. And recently, it was a restaurant called the Scrimshaw.
You have two other restaurants in the city, Peasant and Bacaro. This is just your third place — why open something now?
Yeah, this is my retirement.
With Peasant, you could open it today, and it would fit right in with lots of new restaurants: rustic Italian, open-fire cooking, small wine bar downstairs. Is this restaurant going to be at all similar?
I started in kitchens at 14. For many years, I was working in big French restaurants. Back in the day, if you wanted to learn how to cook, the only real way to do it was to find the best chefs — and most of the time that meant going to France and staging a year or two, getting paid nothing, or going to Italy or Spain or whatever you were pursuing. So I spent many years in Italy, working in really great restaurants … I would stay in these old villas. The kitchens were wood ovens, and these guys were cooking with trimmings from their olive groves or the wine branches.
Whatever they had.
Whatever wood they had. I grew up in New Jersey with an electric stove, and this was a real eye-opener. I fell in love with this whole idea of cooking with fire.
How did that translate to a restaurant in New York?
While I was in Italy moving around, I would always draw these kitchens, draw the ovens, and draw the rotisseries. I was on a mission to have the first restaurant that's only wood-fired. A crazy idea in New York City. I ended up doing that. We opened in '99. There were a few places with wood ovens, but nobody was really cooking out of them. They were making pizzas or whatever. I was obsessed with the whole fire thing. I had to build the kitchen myself. Now, everything is prefabricated, but back then, nobody did that. If you wanted it, you had to build it. Which is really kind of simple. That's why Peasant looks like it does. I built it. Funny enough, it's still standing there 18 years later.
You're not doing that at the new restaurant, are you?
I can't, because this pier and the structure — if anyone lit a match in this place, it would go up like a Roman candle. When you cook with wood, you will eventually have a fire. Whether something builds up in the flues, if someone isn't cleaning properly, whatever. The whole town is over 100 years old, and it's all wooden structures. It would travel from one building to the next. I really don't want to be responsible for burning down Greenport.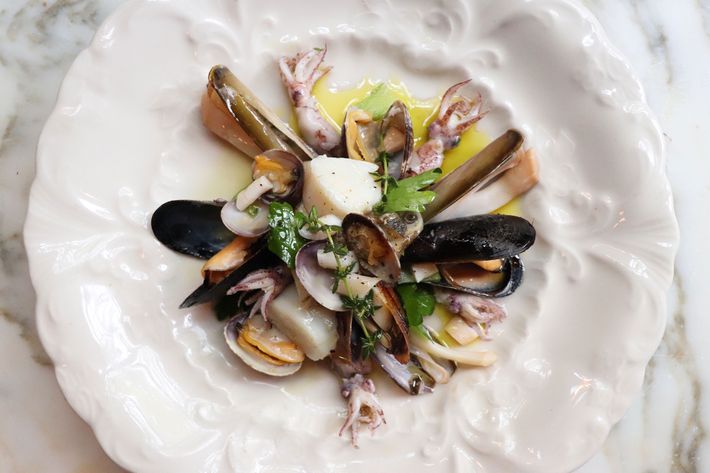 So the focus is seafood, instead of fire.
Yes, exactly. I love cooking with live fire, but at the same time, I don't want to have any problems out here.
Will you be open all year?
This season, we're just trying to get open, but we'll close in the fall. To start, we'll probably be open five or six days, which allows me to go back to Peasant for a day or two to make sure everything's okay. That's how we're going to swing it. My dream would be, in a few years, that somebody offers me a lot of money for Peasant, because it seems to be going that everyone wants to cook with wood; it's a big fad right now, and hopefully some big restaurant group will want to buy Peasant. You can't duplicate it, and it works. We do 200 people a night there, and it's still the same oven, still the same rotisserie.
Peasant has been open for almost 20 years, which is like an eternity for a New York restaurant. Do you own the building?
I don't. When I found that space, I was working in a place called Circa on Second Avenue and 6th Street, in the mid-'90s. I lived on Hester and Mulberry, so I would walk on Elizabeth Street. Back then, the only restaurant that was there was Cafe Gitane. Café Habana wasn't even there yet. One day, I'm walking by the space, as fate would have it, and this older woman is putting up this big piece of cardboard with 'FOR RENT' painted on it. She's trying to hang it up, so I helped her put it up there, and I asked her, "What's the deal? What do you want for rent?" And she said, "I don't know? Is $2,000 too much?" And I'm like, "Where do I sign?" There are 2,000 square feet upstairs, there's another 2,000 down with the wine bar, and a prep room and offices. So, the rent was so super cheap. It's not that cheap anymore. My first lease was a ten-year lease, and then I signed another five, and another five — and now I have about four years left on my lease there, but my rent is half of what market value is. I should be paying between $25,000 and $30,000 for that space, and I'm paying half that. And that's pretty much why we're still open.
I think you're downplaying the success a little. You've had people working there the entire time it's been open, right?
My whole kitchen staff has been there the entire time.
That's unheard of, especially in Manhattan.
Try and find somebody! It will take you a year to figure out how to manipulate the heat. You're building a fire under pigs or chickens or rabbit, or whatever is on the rotisserie, you have to know how to judge that heat. It's not like a state-of-the-art oven, where you can regulate the heat during cooking. You can add and subtract humidity. That's like cooking with a keypad, with the stuff that's out today. This is obviously the opposite end of that. This is primal cooking.
Once the fire gets started, there's no changing it.
Exactly. So it takes a long time to get used to it. And once you really get into it, you don't want to go to some other kitchen and get minimum wage cooking in a stainless-steel kitchen. And they're all paid well.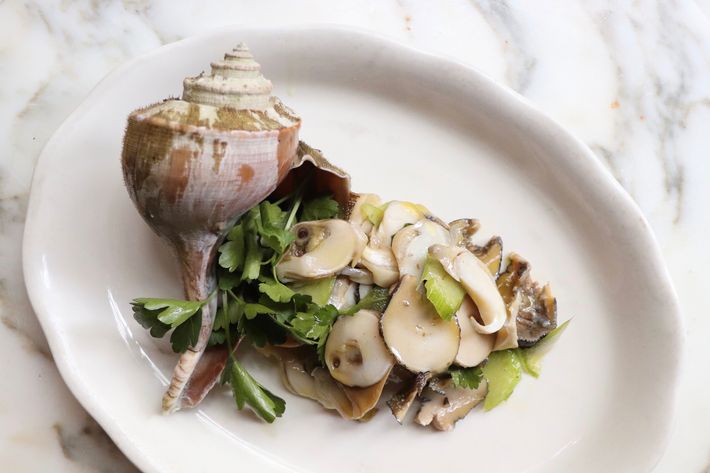 How is the hiring going on the North Fork?
It's not. That's the hard part. We'll be okay. I'm taking one of my guys and bringing him out here because in the summer, we're going to just go with food that's much simpler … We're really all about highlighting what's happening here. Whatever's in this water, around these waters, or directly here is what we're going to be using. The farmers that are just within a few miles from here, I'm only using these farms. It's going to be micro-regional. I'm not bringing in branzino or orata. If you've ever seen a porgy, it looks exactly like Mediterranean orata, except it's got more gold tones in it. It's the same fish, the same family. So we're going to try to be as owed to this region as possible.
Is this timing just a coincidence? Suddenly, the North Fork is exploding.
The chef from Mas is at the Sound View. I see that as kind of being a Sunset Beach. Lucky Bee is coming out here, doing a pop-up at Bruce & Son, which is three doors down from me. You probably know more than I do about that. My wife and I bought a house out here like 12 or 13 years ago, on Shelter Island. A little house. My wife is from out here. I was born and raised in New Jersey. My summers were going to the Jersey Shore, so she introduced me to all of this out here. I just fell in love with it. I always looked at this barn — being on the pier, on pilings over the water — thinking, I would die to have that as a restaurant. Living out here, taking all the product from here, especially in the fall … You know how beautiful it is out here. It's heaven. For a chef, somebody who's cooking, it doesn't get any better. That's why I say it's my retirement. That's my dream, to be able to run this place for, say, eight months a year — spring through the fall. And then close for four months. That would be really ideal.
This conversation has been edited for length and clarity.