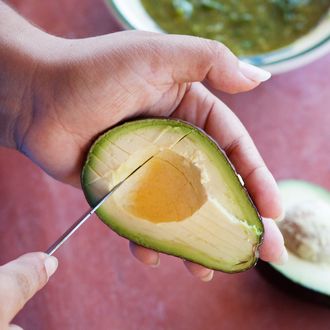 Whoa, careful there.
Photo: Russell Monk/Getty Images
One downside of present-day avocado mania is the looming threat of stabbing yourself in the hand. Fortunately, medical professionals are finally taking steps to tackle this very real problem — just like coal workers suffer from black lung, and office secretaries are plagued by carpal tunnel syndrome, upper-middle-class people obsessed with constantly eating avocados can now become afflicted by something they're calling "avocado hand." The London Times reports that doctors over there have started using this term to describe the string of "serious stab and slash injuries" that result from trying to open up the fruit and remove its impossibly rigid golf-ball-size seed.
As the paper points out, there aren't hard figures yet on the global "avocado hand" pandemic, but Meryl Streep was once a victim, and just last week, the New York Times' Food section posted a lengthy how-to on proper avocado-cutting technique that included a side story about how one staffer's wife recently slit herself "so deep" that she had to get $20,000 worth of hand surgery. In the U.K., the British Association of Plastic, Reconstructive and Aesthetic Surgeons is now calling for safety labels — the group is tired of seeing weekend guac warriors sustain nerve damage so serious that they'll never regain full use of the hurt hand. "We don't want to put people off the fruit," its secretary says, but he nonetheless feels that the fruit needs a sticker with something like "a cartoon picture of an avocado with a knife, and a big red cross going through it." He tells the U.K. Times that he sees about four cases of "avocado hand" per week.

Don't want to become a statistic? Then basically just use common sense (don't stab at the pit with the tip of the knife), or take five minutes and absorb the advice in the videos below that trained professionals have been dispensing for years.

For example, Blue Apron co-founder Matt Wadiak counsels laying the thing flat against the cutting board, then running the knife around the perimeter:
And here's Jamie Oliver advising to "carefully, slowly, and smoothly" cut into the fruit with a sharp knife, while "never ever applying too much pressure":

Martha Stewart (who probably knows a thing or two about not getting stabbed) suggests carefully "tapping the heel of your knife blade" into the pit to remove it:

Serious Eats' Kenji López-Alt reminds home cooks to slice "gently" through the fruit's flesh, unless they like hand wounds:

Or, if you really like that hand in one piece, just use Epicurious's method of navigating the treacherous avocado terrain. "For safety," it suggests, "hold it in a kitchen towel or rag":