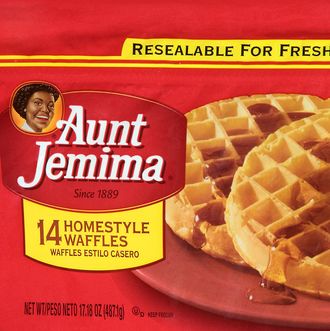 Go for the Eggos instead.
Supermarket frozen-aisle giant Pinnacle Foods has issued a massive recall for 18 different frozen Aunt Jemima products. It warns there might be an unwelcome listeria surprise in them. More worrisome, the recall doesn't put a range on which best-by dates are affected, meaning it applies to all of them, and suggesting that Pinnacle suspects the problem could go way back. The 18 items include pancakes, waffles, and French toast in a variety of flavors and sizes. There's also a 19th item made by Hungry-Man — its 16-ounce Selects Chicken & Waffles. (The FDA notice includes the full list of product names and UPCs.)
Pinnacle made the announcement Friday, after discovering the bacteria inside its plant, but over the weekend, the recall grew to include three types of waffles and French toast sold in Canada as well. Pinnacle notes syrups and dry mixes are unaffected, and that nobody is sick (yet), but almost any frozen waffle, pancake, or piece of French toast should be checked against the FDA's list to see if it needs to be tossed.

In a weird plot twist, Pinnacle also released a new announcement today, saying it's decided to "exit" 16 of these products as part of its ongoing efforts to focus on "more profitable growth opportunities longer term." The release admits the timing "was accelerated by the voluntary recall we initiated last week," but says the products were "low-margin" and that Pinnacle had been planning to phase them out anyway. It doesn't say exactly which 16 products it's discontinuing, but the list will include certain types of frozen waffles, French toast slices, and pancakes. Aunt Jemima's freezer-aisle future will apparently involve "higher-margin and more differentiated" items like mini-pancakes, breakfast entrées, and more of something called Griddle Poppers.