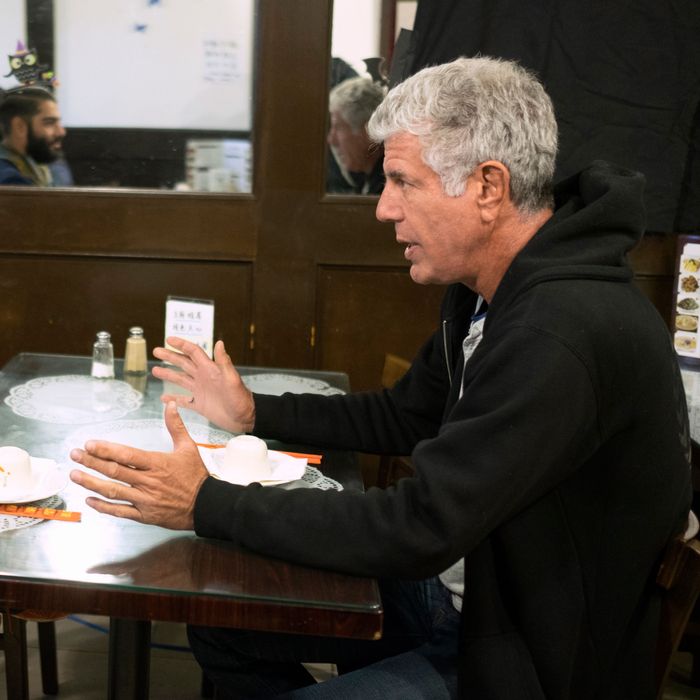 Bourdain chatting with rapper Heems over some excellent Queens dumplings.
Photo: David Scott Holloway/CNN
In nine seasons of Parts Unknown, the closest Anthony Bourdain has gotten to Queens is the theme song that kicks off every episode — it's by Josh Homme and Mark Lanegan of Queens of the Stone Age. Finally, though, for this Sunday's new show, the New York native heads to the borough to survey the food and culture in one of Earth's most diverse places.
A 2014 episode focused on the Bronx, but, believe it or not, this is only the second time the crew has even shot in New York City. It sounds like the reason for their return may have something to do with Laurie Woolever, Bourdain's personal assistant and cookbook co-author — and a Jackson Heights resident for nine years. She tells local news site QNS.com that she's been dropping less-than-subtle hints for ages: "I'm always kind of slipping in a reminder of just how great Queens is. I would just kind of mention, 'I ate at this great place' or 'this taco cart' or 'I went to Flushing,' subtly sort of reminding [Bourdain] of this place across the river he had to take a look at."
Tune into CNN at 9 p.m. to see Bourdain trek to Corona for Ecuadorian street food, then bristle at the quagmire that is New York City's street-vendor licensing system with Street Vendor Project director Sean Basinski. He also eats at Lhasa Fast Food in Jackson Heights, heads down to the Rockaways to talk about the (still) unfinished Hurricane Sandy recovery efforts, and feasts on dumplings and boiled pig tongue at Deng Ji Restaurant with the rapper Heems, for his obligatory Flushing stop. The episode also apparently manages to pay very quick homage to historic Neir's Tavern in Woodhaven, a 180-year-old bar you might remember from Goodfellas, Tower Heist, or a million listings of New York's must-see pubs.