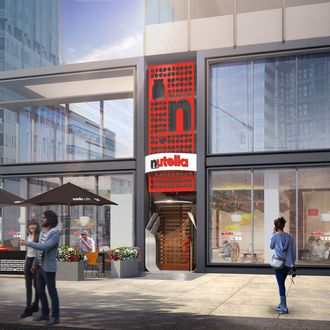 Two floors to contain your chocolate-hazelnut fetish.
Photo: Nutella
America is finally getting rewarded for its obsession with Italy's most famous jarred product: It will soon be home to the world's only official stand-alone café devoted to Nutella. Ferrero says in a press release that its Nutella Cafe — potentially the first of many — will be located in Chicago's Millennium Park.
Naturally, the menu offers Nutella many ways. Stuffed into crêpes. As a twist on pain au chocolat. Atop Liège waffles and pancakes. Poured over gelato affogatos and fruit salads. There are also savory items that, for some reason, don't have any hazelnut spread at all — ham-and-Gruyère paninis and cold pasta salads. Or customers can swing by for a midafternoon latte or hot chocolate with whipped cream and "Nutella drizzle."
As a technicality, it's not the first café to be all-Nutella. Eataly has been installing Nutella bars in its markets since 2014, Toronto has an unofficial Nutella café, and a rogue store popped up in Brooklyn a few years ago that called itself Nutelleria (it didn't make it for too long, though). But this is the first spot run directly by Ferrero. Basically, it's like shopping for Disney princesses at the Times Square Disney Store, instead of at Target's toy aisle or from a shady street vendor on 42nd Street.
For veteran Nutella-café-goers, it seems the main difference will be the store's layout. "It's designed to make you feel like you're actually walking into a jar of Nutella," the space's design consultant tells the Chicago Tribune. "Everything screams 'Nutella.'" That means white walls with various "dripping Nutella-colored embellishments" on the ceiling, light fixtures shaped like hazelnut plants, and red accents that "evoke the feeling of … the bright red 'Nutella' logo staring you in the face," according to the Tribune. The two-floor space has its own Facebook page, and is set to open May 31.