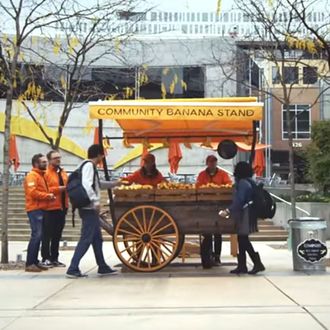 That's bananas.
Photo: Amazon
Amazon's attempt to give away healthy fruit by installing banana stands outside its headquarters has, it turns out, accidentally squished the local market for the fruit. That, of course, wasn't the kind of "disruption" Jeff Bezos anticipated per se when the idea rolled out, The Wall Street Journal reports — the vision was for the e-retailer to offer "a fun, quirky way to hand out healthy snacks" to literally anyone who walks by, be it employees, area residents, tourists in town, or people's pets. Amazon chose bananas because the fruits "come in their own packaging," and the first of two Community Banana Stands opened in 2015. The stands distribute about 8,000 per day each workweek, the Journal says, meaning that Amazon has now flooded downtown Seattle with more than 1.7 million free bananas. But the paper reports the scheme also has a few drawbacks.
For starters, "banista" (the person who runs the wooden cart) and "bananager" (exactly what it sounds like) are now permanent parts of the local vocabulary.

Carly Knox, the manager at Jujubeet, a juice bar five minutes by foot from the original stand, says people jokingly ask if the bananas are free. "Unfortunately, we cannot give those out as freebies," she says. In this case, the "Arrested Development" line that many Amazon fruit patrons quote just isn't true: "There's always money in the banana stand!"
There are bigger problems for local businesses, though. It's apparently hard to even find bananas at nearby grocery stores anymore, while some Amazon employees claim they rely solely on the stand to supply their fruit now. A vegetarian café nearby cut back on buying bananas because customers balk at paying $1 for a yogurt topping when it's available for free right outside the door. A manager at another restaurant is tired of customers treating their establishment like it's BYOB: "It's very common for them to have bananas when they come in for lunch," he says, explaining they'll typically eat it in the open at their table, then leave the peel for somebody to throw out.
Bananager Eric Mountcastle tells the Journal that greedy Seattleites have even started requesting additional types of free fruit. "A lot of people have been wanting avocados lately," he says, plus pears and citrus fruits. But those are very expensive. "Bananas," he tells these entitled complainers, "aren't."