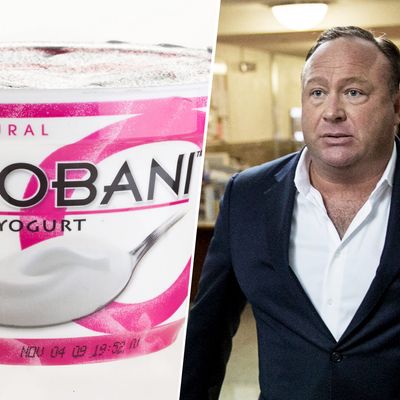 L: A container of Chobani yogurt. R: Alex Jones.
Photo: Getty Images; AP
Alex Jones has learned the hard way that you can't go up against Big Yogurt and emerge unscathed. A few weeks after losing a custody battle with his ex-wife, the conspiracy theorist settled a defamation lawsuit brought against him by Chobani.

In mid-April, Jones's site, Infowars, posted a video connecting Chobani's practice of hiring refugees to work at a Twin Falls, Idaho, plant with a recent (completely unrelated) reported sexual-assault case in the area. Chobani says that Jones did not respond to requests to take the video down, hence their suit seeking $10,000 in damages, along with a retraction.
Per the Los Angles Times, Jones settled and released the following statement of apology on Wednesday:
During the week of April 10, 2017, certain statements were made on the Infowars, Twitter feed and YouTube channel regarding Chobani LLC that I now understand to be wrong. The tweets and video have now been retracted, and will not be re-posted. On behalf of Infowars, I regret that we mischaracterized Chobani, its employees and the people of Twin Falls, Idaho, the way we did.
Not included in his statement was an admission that he actually prefers the sugary yogurts with the candy in the lid.