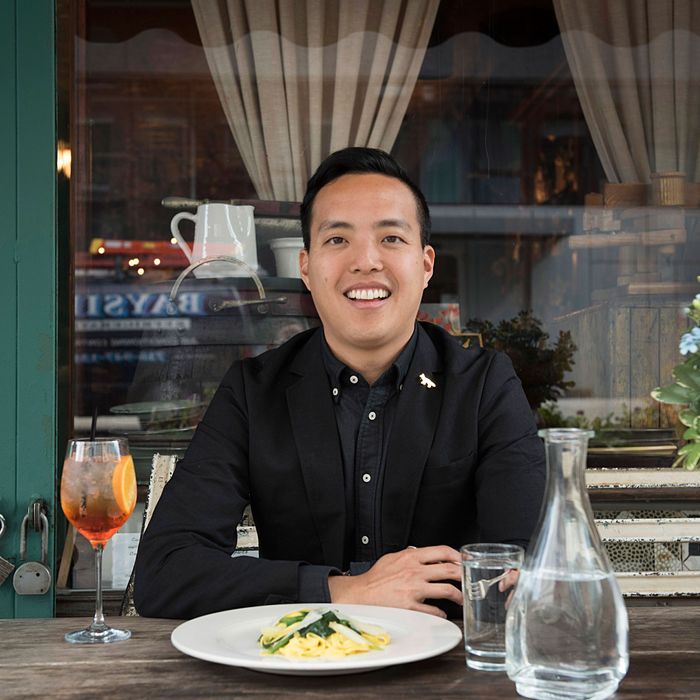 At the original Il Buco, where he eats regularly.
Photo: Liz Clayman
Last week, the second season of Alan Yang and Aziz Ansari's hit Netflix show, Master of None, premiered, with an even stronger focus on food than the first. It's no surprise, then, that Yang lives to eat. As he warns, last week's dining schedule was even more intense than usual, spanning two countries and countless multicourse meals. "What you're about to read is a description of one of the craziest series of meals I've ever had," Yang says. "I love to eat good food, but this is not normal. You'll see what I mean. Apologies for the absurdity in advance." See for yourself, right here.
Thursday, May 11
My day starts with breakfast: a glass of water, main course of nothing, side order of nothing. This is pretty typical for me. I usually skip breakfast and try to eat a little bit healthier at lunch on weekdays, and for my first official meal of this Grub Street Diet, I immediately break this rule. It's for a special occasion: Today is the premiere of season two of Master of None. My dad's flown in from Los Angeles. We go to Maialino to meet up with my friends and co-workers on the show: Aziz and Aniz, their parents, their cousin Harris, and Eric and his parents. We did a version of this lunch last season at Maialino, too, and it was a huge success, so we decided to repeat the tradition.
Aziz asks me to order for the table. As the people I know and love to eat with know, I have a policy where I just order as much stuff as possible and share it all. Basically, if you don't want to share food, you can't be my friend. Sorry. Here's the list of what we order: three cheeses and blood-orange marmalade; salumi misti; a green salad with anchovies; roasted beets with whipped ricotta; burrata; white-bean soup; seared octopus with ramps; tonnarelli cacio e pepe; bucatini all'amatriciana; fettuccine alla carbonara; pappardelle alla Bolognese; malfatti with braised suckling pig; cavatelli with pork sausage; chitarra with charred ramps; chicken cutlet; poached trout; roasted carrots; and charred asparagus. I have a bite or two of every dish, I think. This is the power of sharing! Don't you want to eat all of that instead of one boring entrée? Seriously, get onboard or get out.
The lunch is so fun. It's amazing to see all our parents interact and pick out what qualities their sons inherited from them. After our light 18-course meal, we decide not to order dessert.
The premiere is a truly delightful experience. Seeing everyone who worked on the show again is like another family reunion, except some of your family members are writers and actors and editors and production designers, and burly men who carried heavy things, rigged cars, and lit your show so it could look the best it could. Afterward, we have a party at the Top of the Standard. The food absurdity continues. Massimo Bottura, the chef at Osteria Francescana in Modena, Italy, caters the party. Massimo has a little cameo in the show this year.
I start off with a glass of Champagne and then get to the delicacies: 36-month-aged Parmigiano Reggiano shards with Villa Manodori's extra-old balsamic vinegar, mini Emilia burgers, bite-size mortadella sandwiches, and a fusilli pasta with bread-crumb pesto that Massimo himself mixes into a giant wheel of Parmesan, before serving you with a beatific smile. This is insane. We've peaked, guys. It's over. Let's just call it.
I mix in an Aperol Spritz, a vodka Gibson, and maybe a couple of other drinks. This seems unwise at the time.
Friday, May 12
Shockingly, I feel pretty good when I get up. Glass of water, side of nothing. I make plans to meet my dad at Flora Bar. I know Thomas Carter, one of the owners, and had a great meal with him there a few weeks ago. Guess what? My dad asks me to order, and we're gonna share everything again. The food is fresh, deceptively complex, impeccably seasoned: a Caesar salad; lamb ribs with yogurt and mojo verde; egg tart with potato and preserved truffles; a shrimp roll with hollandaise and pickles; and lobster and crab dumplings in yuzu broth. For dessert, mandarin sorbet with coconut that breaks my dad's brain.
After buzzing through the Met Breuer and banging out a quick trip to the big-ass regular Met with my dad, I go back downtown and meet my friend Andy and some of his friends for a drink at Attaboy. I tell them to make me a whiskey drink, and they serve me something that includes a mixture of Japanese whiskey, mezcal, and Lucano amaro.
I really need to eat something a little healthier at this point. I'm determined to have a light dinner … but then I get a text from my friend Sue Chan. Sue is a great meal companion. "Dinner tonight?" she asks. Shit. I'll eat something light tomorrow, I swear.
We go to Great N.Y. Noodletown for something simple and quick. I let Sue order. She knows the restaurant well — so well, in fact, that she says she knows Ruth Reichl's regular order at Noodletown. We get a duck noodle soup with wontons, flowering chives with duck, and salt-baked soft-shell crabs. And — repeat after me — we share everything. The flowering chives are unbelievable. Truly, get them if you ever go here. I never would've thought to order them on my own. This is why I'm friends with people who love food! I drink one Tsingtao at dinner, and then meet up with my friend Anna at a party on the Bowery.
As I walk in, she says, "This is kind of a finance-slash-model-y party." I have no idea what that means. I think she's joking. It's a nice apartment. There's a full-size, human-length punching bag in the center of the apartment. The people are friendly, and Anna's accountant is there. I have a vodka soda, and I know that's boring, but come on, man — not everything can be a mixture of Japanese whiskey, mezcal, and amaro. Haven't I listed enough crazy food items for you already? As I fall asleep, I promise myself that tomorrow I'll eat lighter.
Saturday, May 13
I forgot that I absolutely can't eat lighter today because I'm flying to Toronto to meet my friend Dave Chang — a struggling young, up-and-coming chef who has five James Beard Awards, two Michelin stars, 15 or so restaurants, and did a cameo on Gilmore Girls. I just learned about that Gilmore Girls cameo from his Wikipedia page 30 seconds ago. Hey, if you're reading this, Dave, that's pretty cool, dude. Dave is working on some new stuff that I'm not allowed to talk about, and he and I are also discussing some joint stuff that I also can't talk about. Sorry, readers!
You're really just here for the food anyway. Well, here's something thrilling: I break my no-breakfast rule and eat a slightly mushy banana at an Au Bon Pain at La Guardia Airport.
Okay, then I meet up with Dave at a place called Fishman Lobster Clubhouse Restaurant. Seriously, that's the name. It's impossible to remember, and kind of sounds like a law firm and a culinary establishment physically collided and just decided to leave the sign the same. Anyway, we eat lunch with Chris Nuttall-Smith, a really nice dude who used to be the food critic for the Toronto Globe and Mail. The order (prepare yourself): black-chicken soup; crab fried rice; Chinese spinach with goji berries; steamed crab with salted egg yolk; fried crab legs with garlic; and the Shaq-like centerpiece, a gigantic 15-pound totem pole they call "Lobster Mountain." The thing is, not joking, three feet tall, and comprised entirely of gigantic pieces of lobster fried in a shockingly delicate batter, generously studded with fried garlic and chiles.
Where did these gigantic pieces of lobster come from? Glad you asked. Before Lobster Mountain is delivered, they bring out the two gigantic lobsters from which the gigantic lobster pieces that will make up Lobster Mountain will be extracted. Completely seriously, these were the two biggest lobsters I've ever seen. Dave and I pick up one lobster each, Chris takes the obligatory photo, and we allow the lobsters to be whisked back into the kitchen to meet their doom.
Everything is delicious, but the standouts are the Mountain and the fried crab legs, which may actually beat the Mountain in terms of flavor because of the delicacy and sweetness of the crabmeat.
We are destroyed. Devastated. Loaded up and weighed down by food. So naturally, we start talking about where we'll eat dinner. Dave and I make a pit stop at his giant glass-walled Momofuku complex, which houses three restaurants in downtown Toronto. We have a couple of drinks at Momofuku Nikai, the bar on the second floor. I have a Dilettante — which is vodka, watermelon, rosemary, and Prosecco — and a Carte Verte, which is gin, chartreuse, and cucumber. That shit is good.
We decide to walk to dinner to work off 1/90th of the calories we've consumed. We head to Asian Legend, a local chain that Dave, ever the contrarian, loves to defend against local Torontonian Asian-food snobs. The damage: pork-soup dumplings; pork pot stickers; pan-fried crispy pancake with shrimp, chives, and eggs; glutinous rice roll with pork floss; pan-fried pork buns; tofu with blended crabmeat; sautéed water spinach with garlic; and because we just needed one more thing, an order of chili noodles. Did we finish everything? No, but we came alarmingly close. There's some really good stuff here, the standouts for me being the crispy pancake and the tofu. I also have a Tsingtao.
This would be a great time to go home and get some rest, but instead, Dave and I meet up with some Momofuku chefs at Grey Gardens, a newish Toronto spot run by one of Dave's former employees, Mitch Bates, and local powerhouse restaurateur Jen Agg. The place is beautiful inside, and they play good music, too. "I knew this would be an Alan Yang type of place," Dave tells me. He might be making fun of me slightly, but I'll take it! I have a glass of Chenin Blanc, maybe two. I get to know some of the Torontonians better, and by the end of the night, we're singing along too loudly to Tina Turner and Phil Collins, before hopping into a car to go back to the hotel.
Sunday, May 14
One last meal in Toronto. Apparently, a lot of restaurants are closed here on Sundays, especially for brunch. Dave suggests we go to Momofuku Daishō, which doesn't disappoint me at all, since I've never been to any of his Toronto restaurants.
"Excuse me. Yes, you there — the server. Please, if we could get your attention, the two Asian gentlemen would like to order: the corn arepa with six-minute egg, avocado, and tomato ají; the garlic fried rice with skirt steak, pickled carrot, and fried egg; the fried chicken with a biscuit, kohlrabi slaw, and sausage gravy; and the self-proclaimed bagel feast with freshly baked Montreal-inspired bagels, breakfast sausage, smoked-fish mousse, scrambled eggs, green salad, and assorted spreads. Wait, wait, you're leaving. I understand the confusion. That's far too much food, even for a party two or three times our size, but we're not done yet. Apologies. We'd also, inexplicably, like an order of the potatoes and onions, and an order each of the housemade coffee-cured bacon and the Canadian peameal bacon. Thanks. Sorry. Don't look at us like we're crazy. Really. We're sorry. We're gluttons. This is gross. I get it."
Honestly? I don't regret one item on the order.
I fly back to New York, run to a quick meeting, and then head to midtown to meet my agent Cori and my lawyer Jeff for dinner. This is pretty rare, since they live in L.A. It's nice to catch up with them a bit. Jeff has picked out Sushi of Gari, one of his go-tos in New York. I order the omakase and drink a little sake, and afterward, I'm well-behaved and actually do go home and get some rest.
Monday, May 15
Remember that other rule where I try to eat a relatively healthy lunch on weekdays? Well, today I'm actually sticking to it. After a pretty indulgent few days of eating, I go to the gym and then for a run, and then try to think of a healthy place to eat. I remember Sue Chan recommending De Maria in Nolita, so I stop by there and get something called a Fire Dragon Bowl. It has a poached egg; beans; grains; avocado; tarragon tahini; and most important for the survival of my body, greens. I eat the whole thing. It's pretty tasty, and now I won't be unbelievably full and sleepy at 3:30.
I spend the afternoon doing press for Master of None. At night, there's a fun thing where my favorite movie theater, the Metrograph, has very generously let me and Aziz pick out some movies for them to play. Tonight, I've chosen Tokyo Story by Yasujiro Ozu. I meet Aziz and our friends Anna and Lauren at Gohan before the movie. (Different Anna from Friday Anna. You don't care, but they might, if they're reading this. Hi, different Annas!) We walk over to the Metrograph and go to the bar above the theater. I have a glass of Sancerre before introducing the movie. I would love to stay and watch it on the big screen, but I have a dinner planned at the Grill in midtown.
I'm very excited. It's my first time, and I've heard good things. I've been friends with Mario Carbone, one of the owners and chefs, for a long time, and I'm a fan of their rapidly expanding empire of big, bold, aggressive, extremely New York–y restaurants. I'm meeting some of my best friends and frequent dining companions, Amanda, Swiz, Kim, and Sara. See, when we eat in a big group like this, we get the option of ordering more stuff, so we can all — say it with me — share.
We order the salted anchovies; the scallop cooked in snail butter; pasta à la presse; the Seagram crab cake; Dover sole with horseradish meunière; honey-mustard duckling; Jack's pie with asparagus; cottage fries; Hunter's-style potatoes; and prime rib straight off the trolley. As with all of Mario's places, dinner is guaranteed to come with a spectacle. For the pasta à la presse, a server comes out with a silver mechanical press she says was found unused in an antique shop in New Orleans. She presses duck, squab, and guinea hen tableside to make a sauce for the pasta. None of this would matter if the food didn't taste good. But it does. The pasta is smoky and flavorful, the duck juicy and elegantly crisped, and the prime rib is some of the best I've ever had, with a salty bark that reminds me of the best brisket in Texas. I drink a Martini with a twist, and we split a bottle of Vouvray and a bottle of Gamay.
In a complete surprise coincidence, Dave (same Dave as weekend Dave) is there with his wife, Grace, eating with his friend Rene and his wife, Nadine. Rene used to run a small, unheralded restaurant in Denmark called Noma. I say hi to them, and we talk about dishes we enjoyed tonight. For dessert, our table gets something called a "nesselrode coupe" and ice cream with cherry Melba flambé, which naturally is done tableside with the expected level of flair and spectacle. This was a meal, guys.
Tuesday, May 16
No breakfast. Healthy lunch. Back on track for a whole two days. I'm doing some work at home, so I grab a loaded kale salad from El Rey, which is in my neighborhood. I know. Kale salad — an awful cliché from three years ago. But their version is actually really good. It has radishes and chickpeas; a pickled egg; and a generous, but not excessive, amount of an almond vinaigrette dressing.
More press in the afternoon. There's a weird TV thing called Upfronts going on in New York, where networks announce their shows for the new season to advertisers. I'm not involved in any way because our show isn't on a broadcast network. But I'm invited to a dinner at Peter Luger thrown by my agency. Hey, free steak! I sit with my friend Jeremy, whose show just got picked up by ABC. I'm very happy for him. We share some steak, some German fried potatoes, and some creamed spinach, and I have a glass of Brunello.
Thus ends one of the most insane runs of meals I've had in a long time. For the rest of the week, I promise it'll be all vegetables and steamed fish and salads. Unless literally anyone calls and invites me somewhere new and interesting that I've never visited, and promises we can share. In that case, I can eat lighter tomorrow.