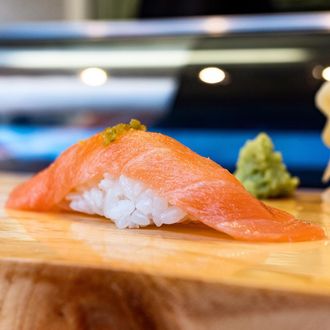 Photo: Sushi on Jones/Instagram
While the West Village is a restaurant mecca, the sushi options in the neighborhood are limited — not counting the luxe, $150-per-head Sushi Nakazawa. That will soon change: Sushi on Jones, which offers a 30-minute, $50, 12-piece omakase experience in Bowery Market (and excellent delivery), is expanding and opening a second location on West 10th Street. The ten-seat restaurant is set to open in August.
Sushi on Jones actually launched with acclaimed chef David Bouhadana, formerly of Sushi Dojo, but he has left the project to open his own affordable omakase in nearby Gansevoort Market. The concept is exactly what he pioneered at Sushi on Jones — 30 minutes, $50, with four seats at the counter and an area for takeout. He's calling it Sushi by Bou, and opening it next week, on May 15. And, hey, if sushi drama leads to more affordable uni, that's fine by Grub.