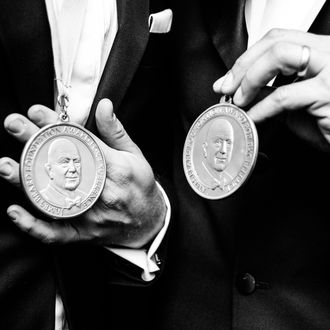 Congratulations to all of the winners.
Photo: Courtesy of the James Beard Foundation
Tonight, the country's best chefs and most accomplished restaurant owners — along with a healthy percentage of the food media — gathered for the James Beard Foundation's Restaurant Chef Awards. Held at the Lyric Opera of Chicago, this year's ceremony included a wide range of winners that included, among others, Le Coucou (Best New Restaurant), Stephen Starr (Outstanding Restaurateur), Michael Solomonov (Outstanding Chef), Ghaya Oliveira (Outstanding Pastry Chef), and lots more. Check out the full list, and a big congratulations to everyone.
Best New Restaurant: Le Coucou, NYC
Outstanding Baker: Mark Furstenberg, Bread Furst, Washington, D.C.
Outstanding Bar Program: Arnaud's French 75 Bar, New Orleans
Outstanding Chef: Michael Solomonov, Zahav, Philadelphia
Outstanding Pastry Chef: Ghaya Oliveira, Daniel, NYC
Outstanding Restaurant: Topolobampo, Chicago
Outstanding Restaurateur: Stephen Starr, Starr Restaurants (Le Coucou, Serpico, Upland, and others), Philadelphia
Outstanding Service: Blue Hill at Stone Barns, Pocantico Hills, NY
Outstanding Wine Program: Canlis, Seattle
Outstanding Wine, Spirits, or Beer Professional: Sam Calagione, Dogfish Head Craft Brewery, Milton, DE
Rising Star Chef of the Year: Zachary Engel, Shaya, New Orleans
Best Chef: Great Lakes: Sarah Grueneberg, Monteverde, Chicago
Best Chef: Mid-Atlantic: Greg Vernick, Vernick Food & Drink, Philadelphia
Best Chef: Midwest: Kevin Nashan, Sidney Street Cafe, St. Louis
Best Chef: New York City: Marco Canora, Hearth
Best Chef: Northeast: Andrew Taylor and Mike Wiley, Eventide Oyster Co., Portland, ME
Best Chef: Northwest: Greg Denton and Gabrielle Quiñónez Denton, Ox Portland, OR
Best Chef: South: Rebecca Wilcomb, Herbsaint, New Orleans
Best Chef: Southeast: Steven Satterfield, Miller Union, Atlanta
Best Chef: Southwest: Hugo Ortega, Hugo's, Houston
Best Chef: West: Corey Lee, Benu, San Francisco
Restaurant Design Awards: 75 Seats and Under
Firm: AvroKO
Designers: Kristina O'Neal, William Harris, Adam Farmerie, Greg Bradshaw
Project: SingleThread, Healdsburg, California
Restaurant Design Awards: 76 Seats and Over Firm: Meyer DavisDesigners: Will Meyer, Gray Davis, Katie McPhersonProject: St. Cecilia, Atlanta
2017 James Beard Foundation America's Classics
Bertha's Kitchen, North Charleston, SC
Owners: Julia Grant, Linda Pinckney and Sharon Coakley
Gioia's Deli, St. Louis
Owner: Alex Donley
La Taqueria, San Francisco
Owner: Miguel Jara
Sahadi's, Brooklyn, NY
Owners: Christine Sahadi Whelan, and Ron Sahadi
Schultz's Crab House, Essex, MD
Owners: Chrissy Burkman, Stephanie Kell, Jason McKinney, Michelle McKinney, Robert A. McKinney Jr., and Stephen McKinney
2017 James Beard Foundation Humanitarian of the Year
Denise Cerreta,One World Everybody Eats, Salt Lake City
2017 James Beard Foundation Lifetime Achievement Award
Nora Pouillon, Restaurant Nora, Washington, D.C.