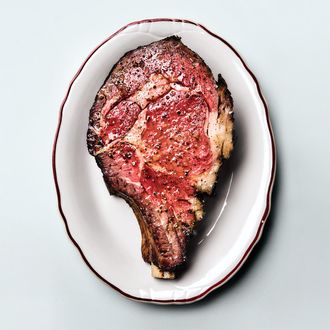 Speedy Romeo's prime rib.
Photo: Bobby Doherty/New York Magazine
It used to be that when one thought of prime rib, one thought of bar mitzvahs, and weddings, and heat lamps, and the old days. One didn't think so much of romantic French bistros or downtown supper clubs or urban barbecue joints or off-the-wall Chinese restaurants. But like many other classic, iconic foods, prime rib has been undergoing a revival for the past few years, culminating, perhaps, in the opening of a West Village restaurant named for it. And Brendan Sodikoff's 4 Charles Prime Rib is hardly the only buzzy new establishment to celebrate the dish — which, should you have managed to evade hotel buffets and wedding banquets thus far, is a beef roast, not a steak, comprising the animal's primal rib area (namely ribs 6 through 12, if you want to get a little nerdy about it). It's as easy to cook as it is impressive to serve (often on a trolley, carved to order tableside, with jus or other condiments).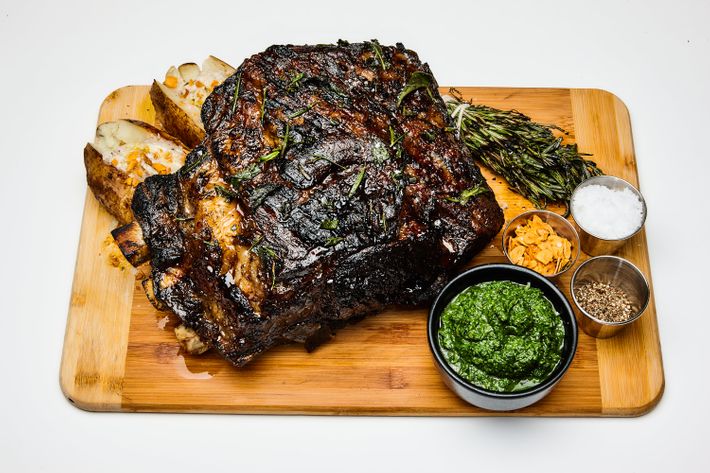 You can find this hulking scene-stealer in its expected steakhouse habitat, of course, but it has also materialized in smoked form at Blue Smoke and Mission Chinese Food; as a chef's-table feast at April Bloomfield's The Breslin and a British Sunday roast at her protégée Angie Mar's Beatrice Inn; and on a designated cart at Harold's Meat + Three. (When the Grill at the old Four Seasons opens this month, it will be equipped with a custom-made prime-rib guéridon of its own.) In fact, the festive old-school beef feast seems to have pervaded every category of restaurant except the pizzeria — until last month, that is, when Speedy Romeo's Manhattan location started offering it as an advance-order group dinner. Chef Justin Bazdarich jerry-rigged a rotisserie over the coals of his J&R grill to cook the meat, and serves it with salsa verde and potatoes dolloped with whipped lardo — a far cry from what used to pass for basic bar-mitzvah fare.
*This article appears in the April 3, 2017, issue of New York Magazine.