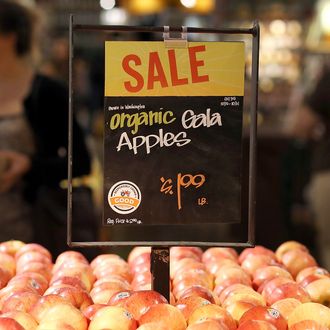 Quality over quantity?
Photo: Justin Sullivan/Getty Images
Potential new board members take note: The head of Whole Foods' grocery operations is spearheading an effort to centralize purchasing in order to lower the grocery chain's prices. CEO John Mackey, who argues that the company's "Whole Paycheck" nickname is "fundamentally a myth," installed an executive from Target for this job, not incidentally, going about as mainstream as he could without poaching somebody directly from Walmart or Costco.
The changes will theoretically address cost — the key customer complaint — but with a possibly regrettable downside, The Wall Street Journal notes: a more limited selection of products in stores. The average Whole Foods stocks between 35,000 and 52,000 items. Some downsizing is already underway at the company's new low-cost 365 stores (the first one it opened last May had just 7,000 items), but it sounds like the company is also rethinking its system of dividing stores in 11 regions. Right now, each region buys its own local products, everything from honey to heirloom tomatoes. This attracts customers — a recent survey found a quarter go specifically for items they can't find elsewhere — but Mackey insists, somewhat vaguely, that their new strategy "strikes a balance" between offering those regional products and providing national brands an easier platform to pitch their items. Pitch meetings now occur in one place — the Whole Foods headquarters in Austin. Mackey adds that this will pass along "tremendous savings" to customers.

It's worth noting how much this system mirrors Walmart's. Its aisles are notoriously hard to get a product onto. Successfully braving the retail giant's Shark Tank–style gauntlet in Bentonville, Arkansas, can be wildly lucrative, but this impersonal touch is also why nobody shops at Walmart for variety. The owner of Macaccino — a coffee replacement made from maca, which is an exotic superfood related to the radish — says with all these changes afoot, keeping his rather niche product stocked at Whole Foods will be "more challenging."