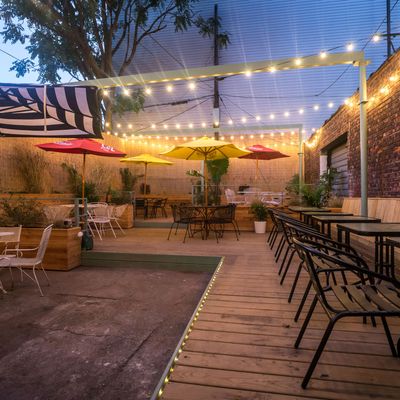 The backyard at Sally Roots.
Photo: Paul Wagtouicz/Paul Wagtouicz
The first nice day of the year — the one when you know there are months of warm weather ahead — is practically a holiday in New York. Everyone out and about. People aren't grimacing when they're walking. (Maybe they're even smiling?) The start of day-drinking season begins. After months of being cooped up by snow and cold weather, it's time to finally go outside … for more than your walk from your apartment to the subway. Not a lot of people here, though, have outdoor space beyond a fire escape (a.k.a. a New York terrace), so you're going to have to head to a park or, better yet, a restaurant. Luckily, a handful of quality new spots have opened outdoor areas, where the food and drink will only enhance the experience of finally getting some sun.
The Drift
The inside of the Commodore crew's latest bar feels like a mountain retreat, but the cloistered backyard is tailor-made for sipping on piña coladas while munching on pimento cheese.
Diamond Reef
Here is your game plan tonight. Make a beeline for the breezier Brooklyn bar from the Attaboy team. Post up in the backyard. Order a Penichillin, a frozen version of Sam Ross's modern classic cocktail of Scotch, lemon, and honey-ginger syrup. Repeat tomorrow.
Mister Dips
Given that it debuted right as the weather started to cool down, you may have had the chance to try the great soft serve at Andrew Carmellini's burger truck in the William Vale Hotel's elevated park. Head there for your first cone of the season on April 15, when it returns from its winter break.
Madre Mezcaleria
The sister-bar to El Atoradero has opened its cozy backyard, right on time for you to eat some tuna tostadas and drink mezcal margaritas.
Sally Roots
If you can't spring for a Caribbean vacation, you can drop by this Bushwick bar's vacationy backyard, where a few Cuba Libres will help you daydream about scuba diving.
Norman
The Greenpoint spot from Nordic chef Fredrik Berselius and restaurateur Claus Meyer has some outdoor tables for you to enjoy your crab toast.
Gristmill
Some call this time of year "bikini season," but Grub maintains that it's always pizza season. Especially when that pizza can be enjoyed in a backyard.
La Sirena
The best part about Mario Batali's hotel restaurant when it opened was its sprawling, civilized patio, and the addition of Anthony Sasso's tapas gives you another reason (beyond Martinis) to check it out.
Dante
For the Negroni nerd, the only thing better than drinking New York's finest is indulging in it slowly, while perched at sidewalk seating in 70-degree weather.
Rose's
Franny's may have moved, but you can still hang out in what was formerly its very pleasant backyard. Instead of pizza, you'll be drinking beers and eating burgers and tater tacos — not a bad substitute for the backyard barbecue you've undoubtedly been craving.
Chaiwali
The Indian restaurant is housed in a charming, stylish brownstone, and it has a cozy backyard with a gazebo-enclosed table that you'll want to spend all night in.
Atla
Mark your calendars: In late May, Enrique Olvera and Daniela Soto-Innes's latest restaurant will add 30 outdoor seats for eating arctic-char tostadas and drinking coconut licuados.