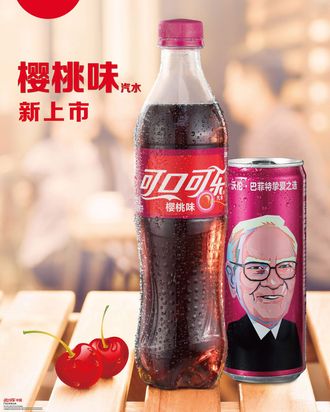 Perfect mid-meeting beverage for the Oracle of Omaha.
The face of Coke's biggest and most famous investor is now being used to sell Cherry Coke to the Chinese. The flavor launched for the first time over there on March 10, according to the company's website; and the idea was that by putting Warren Buffett's visage on cans, Cherry Coke would be the new must-have drink. The 86-year-old, who's claimed to be "about one quarter Coca-Cola," apparently has many admirers in China these days — if you ask him, it's the combination of a sudden interest in stocks over there, books about him being "widely distributed" in Chinese, and several of his recent visits attracting "a fair amount of publicity."
Ever the pragmatist, Buffett told Yahoo exactly how the deal went down: "Four or five months ago, [CEO] Muhtar [Kent] said they were going to introduce Cherry Coke into China and asked me about putting my picture on the cans and bottles. I said it would be fine to do it for the first six months after launching the product. If there are no problems associated with this and he asks me to continue, I will likely say OK." And in case you're wondering, he also would like the record to show he received no compensation for this, and also refused to pose for the drawing.

Regardless, it turned out better than other recent artistic renditions of famous people, and Coke's head of marketing in China says, "We honestly were surprised when Mr. Buffett agreed to the idea. But we're thrilled, and he's selling well." And in May, Coca-Cola says it's even going to introduce the special-edition cans in America during Berkshire Hathaway's annual shareholder meeting.