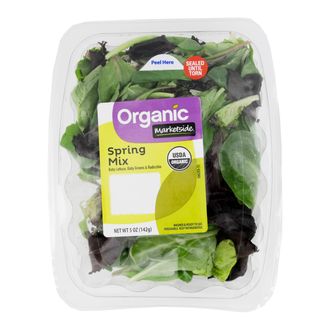 Might contain "bat material."
An organic salad mix sold at Walmart is being recalled in eight states because people in Florida discovered a dead bat inside their package. Well, portions of a bat might be more accurate: Per the FDA, Express Fresh received a report about "extraneous animal matter" turning up in one container, prompting the manufacturer to recall any salad made during that same production run, "out of an abundance of caution." This means it affects all five-ounce containers of Walmart's Marketplace organic spring mix in the states of Alabama, Florida, Georgia, Louisiana, Mississippi, North Carolina, South Carolina, and Virginia.
The CDC says the two people who reported the unfortunate discovery didn't have the luxury of making it until after they'd eaten some of the salad. They each received a "precautionary" rabies treatment as a result, and the bat — or pieces remaining thereof — was sent to the agency's rabies lab for testing, since bats tend to get that disease. (Other fun facts: They also get a deadly fungal growth around their muzzles, and have survived subfreezing temperatures by, coincidentally, burrowing into leafs.) This bat was definitely no longer alive, though, and health officials say its "deteriorated condition" made it hard for them to definitively rule out rabies, though they add that transmission by consuming an infected animal is "extremely uncommon." Still, anybody who bought a Marketplace package stamped with production code G089B19 and a best-by date of April 14, 2017, might want to consider that container a lost cause.