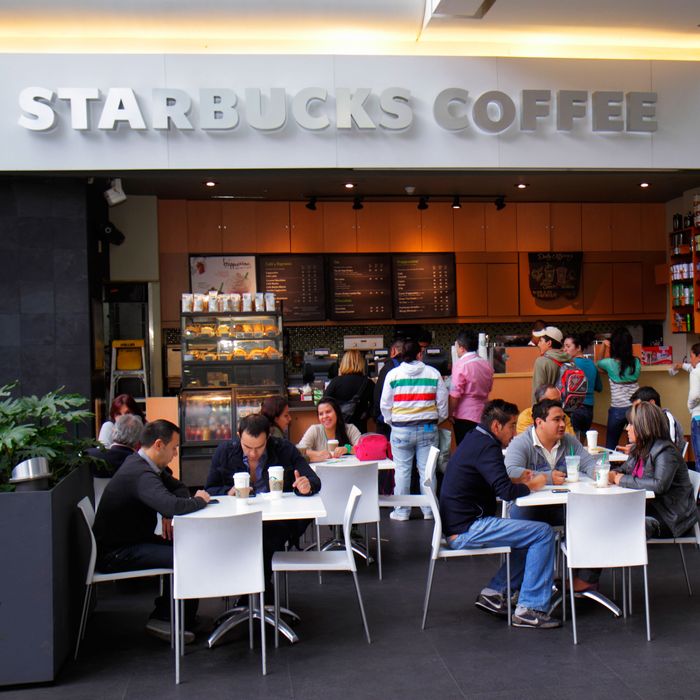 The crowds back in the good old pre-Trump days.
Photo: Jeffrey Greenberg/UIG via Getty Images
There's never been any love lost between Donald Trump and Starbucks. He glommed onto the 2015 holiday-cup debacle by urging a boycott, while the coffee giant has made a habit of publicly rebuking the sitting president. But now this antagonistic relationship has taken a strange turn: Starbucks's sales in Mexico are down by 9 percent, and the best explanation is that consumers in that market greatly dislike Trump.
A variety of American products have been subjected to boycotts since voters elected Trump — a man who hates NAFTA and says he wants Mexico walled off while fomenting frankly horrible ideas about the country's population. Starbucks was maybe hit hardest by protesters on social media, where the hashtag #AdiosStarbucks picked up a fair amount of traction.

Starbucks's Mexican stores are run by a large restaurant operator called Alsea. It doesn't list Starbucks earnings separately from the other brands it runs in Mexico, but analysts familiar with the numbers say they "reflect the anti-Trump sentiment clearly." Alsea didn't go that far publicly, but it did admit to Bloomberg that Trump's rhetoric has made him into sort of a bad hombre down there. "We saw an impact in Starbucks' sales in Mexico due to the context," a rep for the company said, adding it was "quickly offset" by outreach efforts and the fact that Alsea is "a 100 percent Mexican company." According to Bloomberg, Starbucks's drop is officially the first Trump-related sales loss for an American brand operating in Mexico.