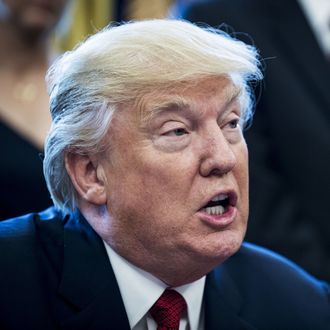 Canadian milk is sad, a total joke.
Photo: Pete Marovich/Bloomberg via Getty Images
President Trump has attacked Canada's new milk-production system as "a disgrace" that's living on borrowed time. The potshot — using an insult he won't apply to a man accused of 13 years of sexual harassment — is merely the administration's latest aimed at America's second-biggest trade partner and NAFTA co-member. Bizarrely, it came yesterday midway through a completely unrelated executive-order-signing ceremony (to investigate if foreign steel should join foreign people on the list of U.S. security threats). Trump apparently told the room, "I wasn't going to do this," then dove into how "what they've done to our dairy farmworkers" is unfair, without elaborating on what he meant. (Presumably, he was referring to the controversial import taxes Canada imposes on certain types of American milk.)
This is the second time this week he's gone after Canada's dairy-trade policies. On Tuesday, he told a Wisconsin crowd that they're "a disaster" and "very, very unfair" to U.S. farmers. He warned that our neighbor to the north shouldn't get too comfortable, because its domestic milk subsidies are "not going to be happening for long." He added he's been reading and talking to people about this particular free-trade issue "for a long time," which seems to be Trumpese for, So now you're dealing with a bona fide expert on the matter. Senator Chuck Schumer said today that he agrees with his sworn enemy for once, noting it's time for Congress to make Canada "rescind their unfair policy and again play by the rules." He predicts any bill will get bipartisan support.

Of course, blasting Canada's dairy industry also means wrangling with its unflappable prime minister, and Justin Trudeau has already dismissed Trump's fighting words. "The U.S. has a $400 million dairy surplus with Canada so it's not Canada that's the challenge here," he told Bloomberg.