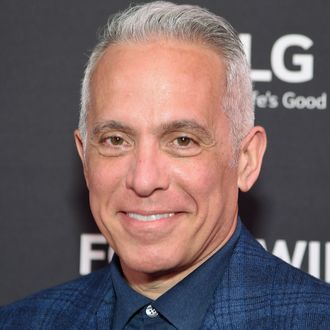 No doubt ready to put the matter behind him.
Photo: Michael Loccisano/Getty Images for Food & Wine
People yearning for a real-life courtroom drama starring the sitting president won't be getting it from either of the lawsuits filed after President Trump's D.C. hotel lost its two celebrity chefs. On Friday, the Trump Organization and José Andrés announced they'd settled for an undisclosed amount, and now Eric and Donald Jr. say they've "amicably resolve[d] our differences" with Geoffrey Zakarian, who was also hit with a $10 million breach-of-contract suit when he walked out on plans to open a branch of the National, following Trump's comparison of Mexicans to rapists during the presidential campaign.
Both chefs countersued, after which neither had pretty much anything nice to say about the Trumps. (The best lines undoubtedly go to Zakarian, who said Trump "rendered this Chernobyl," and dropped this Ivanka burn: "I've forgotten more than she knows about fabrics.") But in yesterday's joint statement, Zakarian "acknowledged his satisfaction with the resolution," and suggested he holds no ill will. For his part, Andrés is also calling it a "win-win" for both sides.
No details of either settlement were revealed, so really it's impossible to say who bested whom here. But it's hard to imagine how the Trump Organization won't bear the brunt in the long run, considering Trump's frequent boasts that he "never" settles lawsuits, and the company's cocky claim that "Zakarian's foolish decision will be his loss and will have no effect on the completion and success of this project." The space set aside for Zakarian's National is now a "very large" conference room. Meanwhile, Zakarian has opened a couple new restaurants since bailing on the Trump International Hotel.