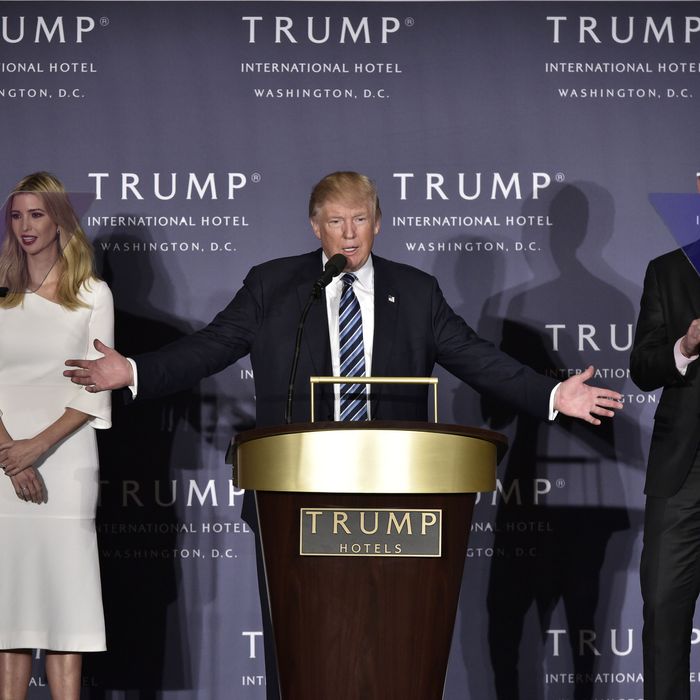 The hotelier president.
Photo: Mandel Ngan/AFP/Getty Images
A pair of plaintiffs will join a lawsuit that alleges President Donald Trump has violated the Constitution's emoluments clause. The once-obscure provision bars American officials from accepting gifts from foreign powers, in an effort to prevent the purchasing of influence. The lawsuit specifically argues that Trump violates the clause by continuing to do business with foreign governments at his hotels and restaurants, including Washington, D.C.'s Trump International Hotel. The plaintiffs joining the case are Restaurant Opportunities Centers United and Jill Phaneuf, who books banquet halls for two D.C. hotels.
The emoluments clause has never been the subject of a significant court case, and when this lawsuit was filed, legal experts weren't so sure that would change. For one, there was the question of whether or not the watchdog organization that filed the suit, Citizens for Responsibility and Ethics in Washington, actually had grounds to sue. (Ethics experts have argued that Trump violated the hotel's lease — it's in the federally owned Old Post Office building — but the General Services Administration says it's all good.) The case is clearer for the ROCU, whose co-director Saru Jayaraman tells the Washington Post that it affects "both employers' bottom lines, and workers' loss of income." Prominent restaurateurs — including Alice Waters, Danny Meyer, and Tom Colicchio — voiced their support in a statement released by the ROCU. Phaneuf, who books event at the Carlyle Hotel and Glover Park Hotel, tells the paper that Trump "is taking business away from me and others." Neither Jayaraman or Phaneuf provided the Post with a specific instance of lost business.

This isn't the only lawsuit against Trump involving D.C.'s restaurant industry. In March, the owners of Cork Wine Bar filed a lawsuit alleging unfair competition by the president and his hotel in the capital. One of the attorneys representing Cork told the Washingtonian that the restaurant had seen "significantly less income," and that government officials and others seeking influence with the administration have felt pressure to go to the Trump International Hotel. Business is going so well at the hotel, in fact, that the Trump Organization wants to open a second, more accessible hotel in D.C. Diplomats haven't exactly made a point of hiding this in interviews with the press, while some are even willing to post TripAdvisor-style reviews to their Twitter accounts.