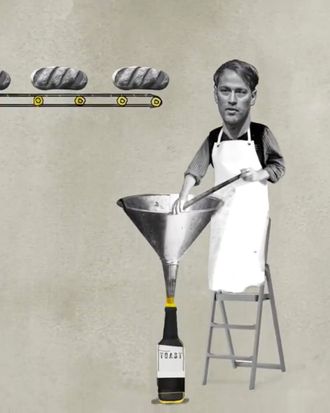 Stuart busy saving the planet.
About a third of America's bread gets tossed out each day, but a pioneer in the fight against food waste is about to put some of it to far, far better use. Toast, Tristram Stuart's celebrated British beer made from recycled loaves, is coming to New York City, the New York Times reports. It marks not only the beer's entry Stateside but also the release of his latest style — an American pale ale, appropriately enough. Toast is kind of a big deal across the pond, where a growing number of restaurants and grocers have been selling it since 2016. Each bottle uses roughly one slice along with the malted grains, yeast, and hops, and Stuart estimates they've saved 3.6 tons of bread in their first 15 months. It's also gotten kudos from chefs Jamie Oliver and Dan Barber, who calls it "delicious," but seems equally into its "wonderful" backstory, not surprisingly. He says he plans to put it on the menu at Blue Hill.

For the New York release, production is being outsourced to Chelsea Craft Brewing's facilities up in the Bronx, where the Times says a test batch has already been completed. Samples accompanied the premiere of Anthony Bourdain's Wasted! The Story of Food Waste at the Tribeca Film Festival this past weekend (Toast is in that documentary, coincidentally). To help crowdfund the costs, Stuart has also launched an Indiegogo to raise $35,000. Any extra money will presumably go to Feedback, a charity he started to tackle food waste on a global scale that receives 100 percent of Toast's profits. The "ambitious" goal is to start production by July 4, and Stuart says New York bakeries are "already knocking down our door" to donate their surplus loaves to the calling.