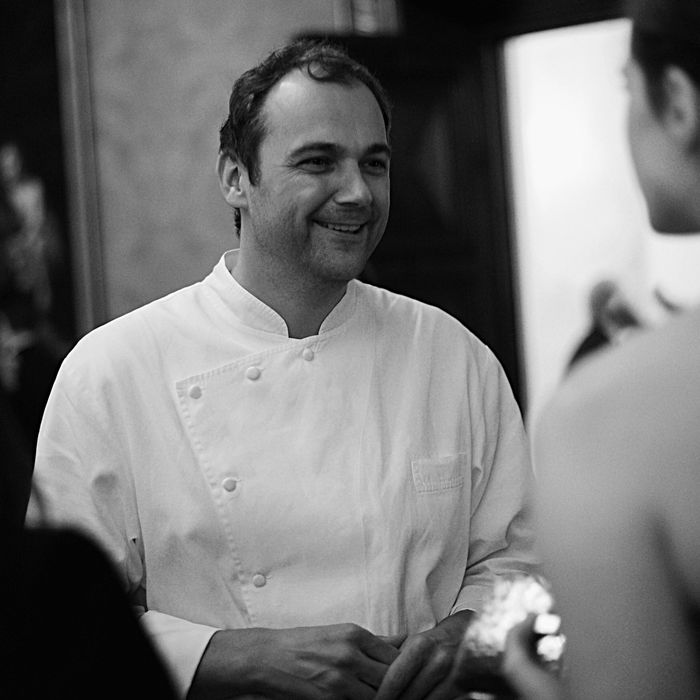 Daniel Humm, who took over Eleven Madison Park's kitchen in 2006.
Photo: Bryan Bedder/Getty Images for Relais & Chatea
Today in Melbourne, Australia, chef-world heavies gathered for the announcement of the annual World's 50 Best Restaurants list. Since it debuted in 2002, the list has steadily gained both authority and notoriety in the restaurant industry (it has also spawned several offshoot awards), but it nevertheless resonates with diners around the world, and high placement guarantees a restaurant's tables will be more or less filled for the foreseeable future. The big news this year is that New York's own Eleven Madison Park nabbed the top spot from Italy's Osteria Francescana. (It's the first time a non-European restaurant has topped the ranking since the French Laundry won in the list's earliest iterations.) In fact, New York chefs had a strong showing in general. Dan Barber's Blue Hill at Stone Barns made a big jump, from 48 up to 11. Le Bernardin is 17. And Enrique Olvera's Manhattan restaurant, Cosme, debuts at number 40 (joining Olvera's Mexico City restaurant, Pujol, which is at 20). Also noteworthy, though not unexpected, is the absence of Rene Redzepi's Noma, which has held one of the top ten spots for the past nine years, owing to the fact that the original location closed at the end of last year. Here's the full list; gastro-tourists should start making their reservations immediately.
1. Eleven Madison Park, New York City
2. Osteria Francescana, Italy
3. El Celler de Can Roca, Spain
4. Mirazur, France
5. Central, Peru
6. Asador Etxebarri, Spain
7. Gaggan, Thailand
8. Maido, Peru
9. Mugaritz, Spain
10. Steirereck, Austria
11. Blue Hill at Stone Barns, Pocantico Hills, New York
12. Arpège, France
13. Alain Ducasse au Plaza Athénée, France
14. Restaurant Andre, Singapore
15. Piazza Duomo, Italy
16. D.O.M., Brazil
17. Le Bernardin, New York City
18. Narisawa, Japan
19. Geranium, Denmark
20. Pujol, Mexico
21. Alinea, Chicago
22. Quintonil, Mexico
23. White Rabbit, Russia
24. Amber, Hong Kong
25. Tickets, Spain
26. The Clove Club, England
27. The Ledbury, England
28. Nahm, Thailand
29. Le Calandre, Italy
30. Arzak, Spain
31. Alléno Paris au Pavillon Ledoyen, France
32. Attica, Australia
33. Astrid y Gaston, Peru
34. De Librije, Netherlands
35. Septime, France
36. Dinner by Heston Blumenthal, England
37. Saison, San Francisco
38. Azurmendi, Spain
39. Relae, Denmark
40. Cosme, New York City
41. Ultraviolet, China
42. Boragó, Chile
43. Reale, Italy
44. Brae, Australia
45. Den, Japan
46. Astrance, France
47. Vendôme, Germany
48. Restaurant Tim Raue, Germany
49. Tegui, Argentina
50. Hof Van Cleve, Belgium