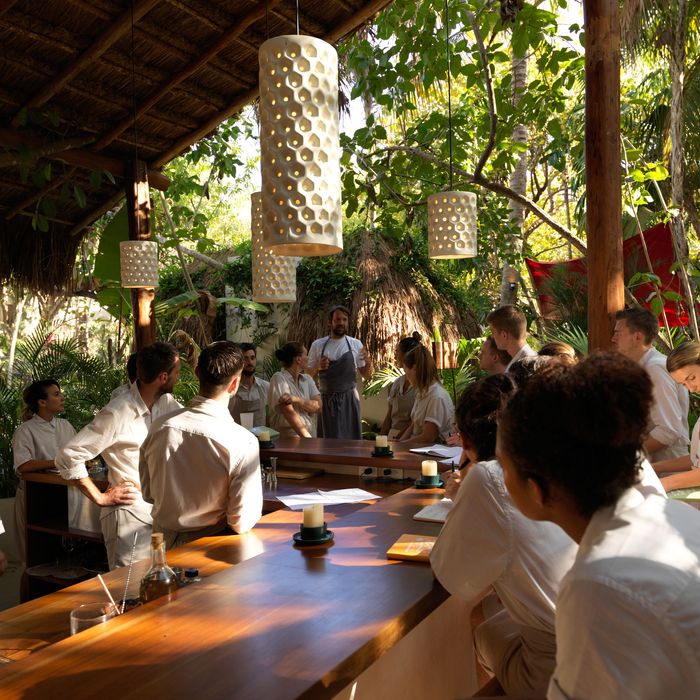 In Tulum, René Redzepi constructed a Noma pop-up from the ground up — a task that involved transporting and housing a team of almost 90 from Copenhagen.
Photo: Jason Loucas
In less than a year, the restaurant Olmsted has become something of a fixture in its Prospect Heights neighborhood, with the dining experience informed by a garden-to-table sensibility tied to the Brooklyn location and ethos. This spring, however, 3,850 miles away from Prospect Heights, a restaurant called Olmsted opened in Madrid for a single month.
The restaurant's signature carrot crêpe made an appearance abroad, but with Spanish clams. So did a celebrated pork-collar dish, but manchego replaced the usual melted raclette cheese. The Brooklyn playlist, filled with Ol' Dirty Bastard and Kanye West, blasted on the speakers. While Olmsted's chef-owner, Greg Baxtrom, trained at some of the most prominent fine-dining restaurants in America (Alinea, Blue Hill at Stone Barns), the arrival of his restaurant on the international pop-up circuit — long popular with the types of restaurants that compete for "World's 50 Best" honors — is indicative of the enduring, and expanding, power of the restaurant-on-the-road business model.
Now, a noteworthy pop-up means that a chef is reaching beyond simply cooking at another restaurant for a night or two; he or she is building an entire restaurant somewhere else, with a nod to local ingredients and traditions. These projects are certainly prestigious, but are they smart business decisions?
The Allure
The appeal of this pop-up model is clear: It can help a restaurant earn name recognition around the world, while also keeping chefs and their staff creatively fulfilled. Still, Baxtrom says he didn't go looking for this opportunity; a hotel group approached him. Considering Olmsted only opened last May, it didn't make sense for him to step away from Brooklyn for an entire month. But talented cooks are in high demand right now, so it's critical that Baxtrom create experiences to incentivize his staff to stay at Olmsted for longer. "The reason why I accepted it is that two people who work really hard for us — my two sous-chefs, Jenny [Treantafilos] and Morgan [Schofield] — basically got a paid trip to work and spend time in Spain," he says.
René Redzepi — who has opened ambitious, temporary versions of Noma in Tokyo, Sydney, and, as of the beginning of April, Tulum — says that transporting his restaurant to another corner of the globe not only offers his staff exposure to different cultures and ingredients, it also improves the food he makes back home in Copenhagen. "It is basically the most elaborate, challenging, and time-consuming team-building exercise you can do," he says.
There are also practical reasons for launching a pop-up abroad: Redzepi's six-week Tulum project, a collaboration with Rosio Sanchez (who owns Copenhagen taqueria Hija de Sanchez and was previously the pastry chef at Noma), coincides with the temporary closing of Noma's original location. To retain his staff, he has to keep them busy and engaged for the majority of 2017. Last year, Grant Achatz and Nick Kokonas operated pop-ups in Madrid and Miami, while renovating Alinea in Chicago. "We had 58 employees that we wanted to keep employed, while we rehabbed our restaurant," Kokonas says. "That's $400,000 a month in payroll, and you can't just fire everyone and reopen four months later and expect to have a great team. Keeping all those people employed would mean that you're going to spend $1.2 million in salaries in four months. So for us, it was partly done out of necessity."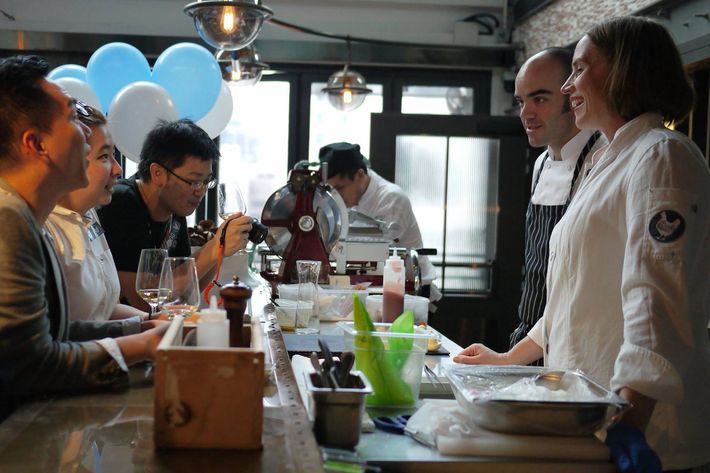 Sarah Simmons, the owner of Birds & Bubbles in New York (which very recently closed), opened a month-long pop-up in Hong Kong last summer — another indication that these opportunities aren't exclusively available to fine-dining restaurants. In New York, she served a large number of customers visiting from Hong Kong, so she started thinking about opening a permanent restaurant there. Running a pop-up gave her the chance to give the city a test-drive, free of charge.
The Finances
That's the thing: A Hong Kong restaurant group, Drawing Room Concepts, sponsored Simmons and her partner, Aaron Hoskins — fronting their visas, paying them an appearance fee, and even giving them a revenue share. Since only she and Hoskins traveled to Hong Kong, Simmons was able to keep Birds & Bubbles open and profitable back home in New York.
Baxtrom struck a similar deal, which allowed him to keep menu prices low (€40 for four courses) in Spain. This kind of sponsorship — whether from a restaurant group, a hotel, or an alcohol company — has become the norm, considering how much these pop-ups cost. "We make sure we only do them if our partner is really aware of the cost it will take," says Daniel Humm, the chef and co-owner of Eleven Madison Park and the NoMad, who has taken up residencies in Tokyo and Switzerland. "Earlier in my career, I would go cook somewhere with two chefs and work for 24 hours and run around like a crazy person. Now, we only do this if we feel like we can bring Eleven Madison Park — our staff and our plates and our service. Usually, we have a partner who pays for it. In the past, it's been hotels. It's an expensive undertaking."
Exactly how expensive? "The Alinea pop-ups we did in Spain and Miami were $1.5-million-per-month productions," Kokonas says. "We had 52 European Union work visas that took six months to process with a Spanish legal team. We had to set up a Spanish corporation. And a revenue-share agreement. And sponsors. The reason that you see sponsors is that we don't want to charge you $1,500 for a dinner. We want to charge you $200. You can't just move a restaurant temporarily for six or eight weeks and not have underwriting."
Still, significant monetary support doesn't necessarily translate to profits. "I'll be honest," Kokonas says. "We lost money in Spain. We made money in Miami. We broke even on the whole endeavor." In Miami, a flashier market, he charged between $275 to $385 for dinner, and even added an optional $495 "gold wine pairing." In Spain, with significantly higher costs, he charged €275 for the Alinea pop-up (and €500 for a collaborative dinner with David Muñoz's DiverXO) — taking into consideration that the highest-ranked restaurant in the country, El Celler de Can Roca, only costs about €200. "We sold about $300,000 in the first day of booking for Spain, and about $560,000 in Miami," Kokonas continues. "And ultimately, had almost a million in revenue for the month in Miami, and a little bit less than that in Spain."
Compare that to Noma's pop-up in Australia: Kokonas also runs Tock, a reservation-software platform, and he says that Redzepi brought in $1.8 million in bookings on Tock in 92 seconds flat. (The 5,600 seats available quickly sold out, with tens of thousands of people wait-listed.) Redzepi charged about $340 USD (excluding beverages, tax, and tip) for that Sydney pop-up, receiving "large help" from the government's tourism board. His Noma pop-up in Japan cost about the same, where he received support and housing from the Mandarin Oriental, Tokyo. But in Tulum, Redzepi has no large-scale partnerships, and he's charging $600 a head (this time including beverages, but excluding tax and gratuity) — making the cost of the meal prohibitive to the majority of Mexicans, whose average daily wage is $15. Dinner at both Quintonil and Enrique Olvera's Pujol — Mexico's most celebrated fine-dining establishments — costs under $100.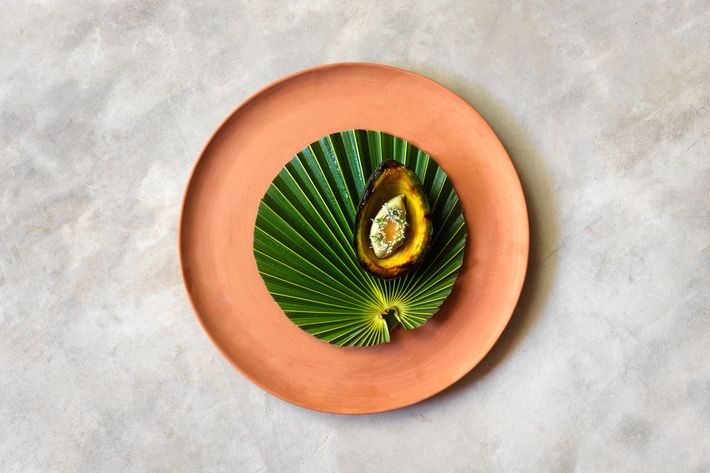 "The price point is always the most sensitive part of our entire planning," Redzepi says. "It is the part that we discuss over and over and over again. Both for Japan and Australia, we had two expensive experiences, but it was affordable for a good chunk of the society. In Mexico, we haven't achieved that. I would have much preferred to have had a price that would be affordable to a schoolteacher or an office clerk, but I don't think we could have ever made it possible in Mexico." It's for this reason that he created a scholarship fund for Mexican culinary students, and a bar menu exclusively for walk-in customers. During the final two weeks of the pop-up, he'll serve free lunch to culinary students, too.
"The price for each pop-up is directly related to how many expenses we have," Redzepi continues. In Tulum, his expenses, before even commencing service, included six cooks spending three months traveling in Mexico for research purposes; constructing a restaurant from the ground up; transporting and housing a team of almost 90 from Denmark; bringing on 35 local staffers; and sorting out doctors, schooling, and day care for everyone involved. "You have to establish all of the framework you need to truly live in a place," he says. "Even though it's only for three months, we need to set it up as if everyone were to be there for two years … I'm sure it is hard to believe for some people, but we haven't factored in a 10 percent profit margin on these experiences. It is not a profound business model by any means — in those terms, it would be much savvier to stay at home."
Humm agrees: "All of this really isn't for money. I would have chosen a different path if money was my sole goal."
The Logistical Challenges
As much joy as these pop-ups bring these chefs and their staffs, they also cause quite a few headaches beyond crunching numbers. Dan Barber, who recently wrapped a five-week wastED pop-up on the rooftop of Selfridges in London, says that it required an entire year of preparation. With his culinary director, Adam Kaye, Barber had to identify the greatest sources of food waste in England's system, target farmers and producers willing to give away their excess (like 2 million hectares of wheat, the pulp from sugar beets, and veal), create a larder list, and then bring in local chefs like Yotam Ottolenghi and Gordon Ramsay to collaborate on the actual dishes. "When we closed Blue Hill New York's wastED, I said we'd never do it again," Barber says. "And now I'm saying that again. So I don't know. I hate to close the door on anything. But it has to be a sort of thing that drives the theme further. The whole team has to be convinced that we're doing this for a larger reason than to just put on another pop-up."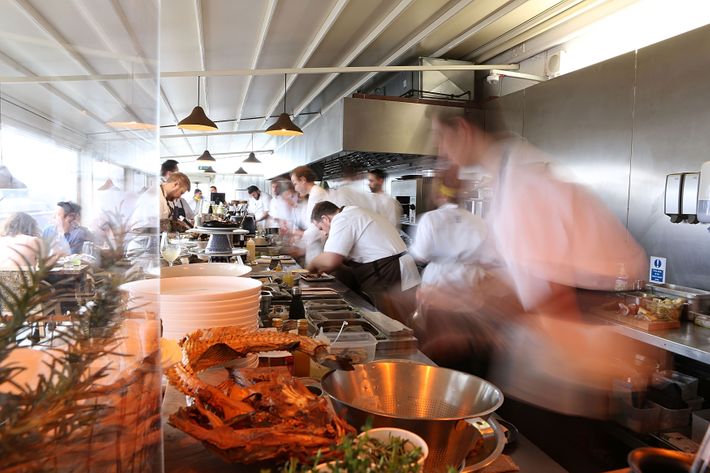 Even for "regular" pop-ups that don't require cracking open a foreign country's supply-and-demand chain, the challenges are daunting. "Trying to teach a cook who's never made a French-based sauce to emulsify butter is really hard when you can't speak the same language," Simmons says. "Aaron and I found ourselves using hand gestures a lot. There's not a universal signal for, 'Don't break the sauce.'" And curiously, very few of the Hong Kong locals ordered Champagne — a cornerstone of the Birds & Bubbles concept. Ultimately, at the end of the month, Simmons decided that Hong Kong wasn't the place to expand her concept internationally.
You'd never think that Redzepi — considered to be among the world's most influential chefs — would have an issue with people not taking him seriously, but that's exactly what's happened in Tulum. He spent five months just researching the region, yet he worries the local perception is that he's "gallivanting around and shoveling in money" for personal and professional gain. This leads to larger concerns about cultural appropriation, as well as specific sourcing obstacles. "Some of the small communities that are growing produce for us are so unacquainted with orders like ours that they don't believe we really want or need the amount of ingredients we ask for," he says. "They almost don't believe that we are for real. We have local project managers to make these interactions smoother, but even still, just getting some people to take us seriously has been a challenge."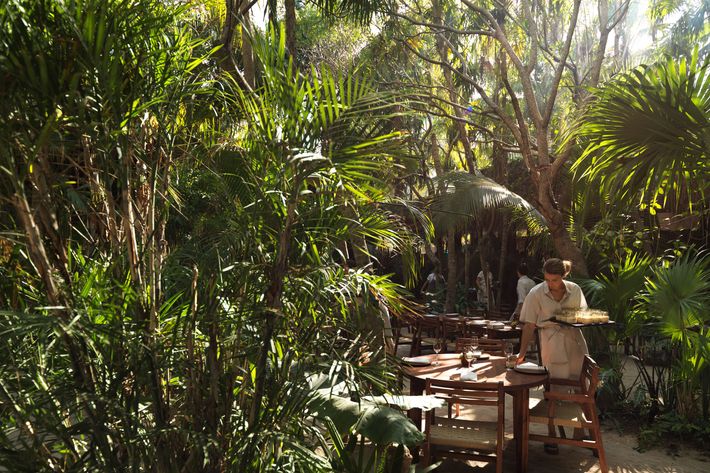 Some obstacles are certainly self-imposed, indicative of a chef's relentless quest for perfection. In Tulum, Redzepi is sourcing a special papaya from 180 miles away. Kokonas recalls that Achatz and his team once flew from Chicago to Marbella with 1,100 pounds of ingredients in flight cases, because they didn't want to deal with the hassle of sourcing locally under a time crunch. "They brought Spanish olives to Spain — ridiculous!" Kokonas says. "It made no sense."
The Exposure Necessary for International Fame
But for these eager chefs, pop-ups are high-pressure situations that can make their work relevant globally, generating international press and giving them a shot at placing on the controversial "World's 50 Best Restaurants" list. Eleven Madison Park just landed at No. 1 — an accomplishment that's as much about elite cooking and service as it is about public relations. Chefs, restaurateurs, food writers, and "well-traveled gourmets" all receive a vote, and as with the Oscars, chefs, to a degree, run public-facing "for your consideration" campaigns. This can take the shape of hosting splashy parties and conferences (which Humm and his partner, Will Guidara, do often), as well as operating pop-ups in far-flung locales. After all, if you're charging several hundreds of dollars a head for dinner, you need to attract deep-pocketed tourists to stay in business.
"Today, it's important as a restaurant and as a chef to share what you do with a wider audience — not just even what you serve, but your philosophies," Humm says. "Twenty years ago, it was different, but the whole world has become much more global. We talk about chefs in South America and Asia and Australia, and ten years ago, we barely did."
While Olmsted isn't operating at the fine-dining level of Eleven Madison Park, Baxtrom still feels the need to take a similar approach to ensure his business's success. In New York, even if you're operating a relatively more casual place and catering to locals, you feel the "grow or die" heat. "We're an ambitious neighborhood restaurant that I don't intend on closing in a couple of years," Baxtrom says, well aware of the life span of most restaurants in this city. "That means playing the game a little bit and trying to be known everywhere. The food community is tiny; everyone knows everyone."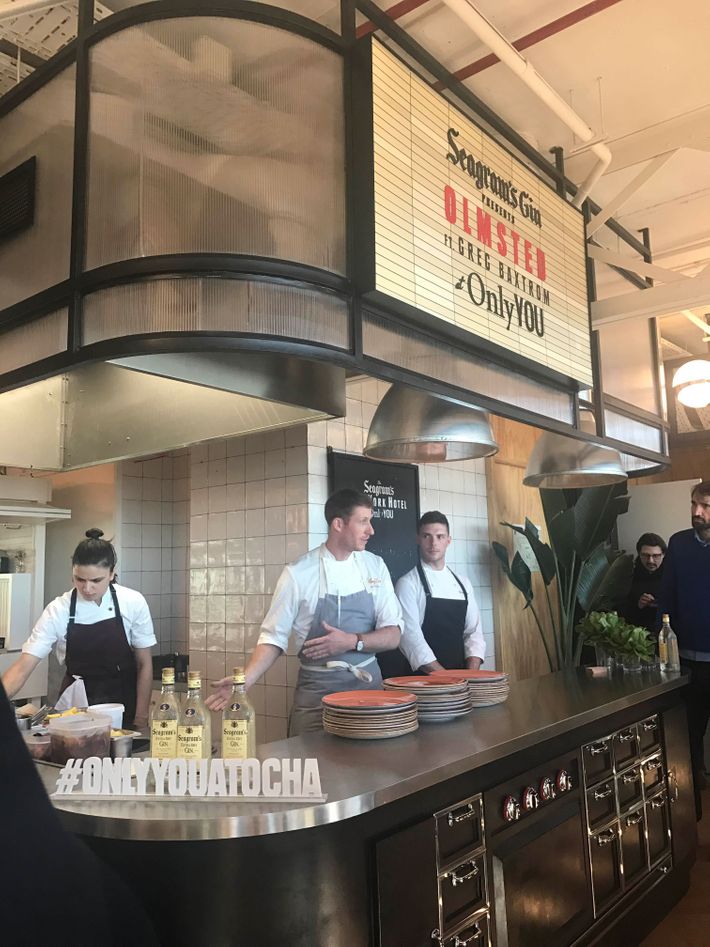 And yet, the process of uprooting yourself and your staff, and then trying to create a short-term restaurant on the other side of the world that's reflective of your work at home, but somehow also avant-garde and sensitive to the local community — that takes a physical, emotional, and financial toll. "It's funny because Grant was like, 'Hey, we need to figure out a pop-up for this year,'" Kokonas says. "And I said, 'What? No. No.'"
The Future of International Pop-ups
Kokonas dreams about opening a traveling pop-up that moves from city to city, like a band on tour (with a kitchen that can be set up like a stage). He hasn't figured out a way to make this concept work, without it having to earn hundreds of thousands of dollars in revenue per night. This is a fantasy for Redzepi, too. "Traveling like this is addictive," he says. "I would like to challenge anyone to set up this idea of an annually traveling pop-up as a sound business model. I do not believe it is possible to do so. You have to do it for other reasons far more valuable than a 10 to 15 percent margin." On a national level, Ludo Lefebvre accomplished this through his traveling pop-ups, called Ludo Bites, which mostly took place in Los Angeles. (It helped to have the backing of the Sundance channel for a television series, Ludo Bites America, and a corresponding cookbook deal.)
For Baxtrom, that kind of added business benefit will be the draw for any subsequent projects, like his temporary restaurant in Madrid: "I don't see us ever doing a pop-up unless we can get something good out of it," he says. "A lot of these things tend to just be done out of ego, you know? Not that I don't have an ego, but people don't have to know about it."