Van Leeuwen's newest flavor involves local ube.
Photo: Andrea Massaad
Ice cream is a treat that should be enjoyed year-round, of course, but it's understandable that some New Yorkers prioritize it in the warmer months. Finally, it seems that spring weather is here for good, and that means pastry chefs are seriously stepping up their game, unveiling bold flavors like burnt sage, salty lemon with candied seaweed, and blueberry pie. These are the new options you'll want to track down.
Van Leeuwen's Ube-Coconut Jam
Locally grown ube (purple sweet potato) gets steamed and mashed into a purée, folded into a simple ice-cream base, mixed with purple-carrot extract (to give it a psychedelic color), and then swirled with a Malaysian-style coconut-jam custard. Other new flavors to note at Van Leeuwen: the milk-chocolate birthday-cake ice cream is almost mousselike in texture; and the toasted coconut with cherry-hibiscus jam, black-pepper cookies, and chocolate chips just so happens to be vegan. Bonus: The company has really doubled down on its commitment to buying ingredients directly from farms and local purveyors.
Mister Dips' Berry Gibbs
Tomorrow, April 15, Andrew Carmellini's burger joint at the William Vale hotel in Williamsburg will reopen for the summer season, featuring a new strawberry soft serve dipped in strawberry dip, and served in a cone filled with boozy strawberries and crushed Nilla wafers.
Big Gay Ice Cream's Blueberry Gobbler
For the first time in eight years of business, Big Gay has unleashed pre-packed pints on the market, available both in local New York shops and in grocery stores across the tristate area. There are seven total — in now-famous flavors like Salty Pimp — and a new one for spring called Lunchbox: strawberry ice cream stuffed with strawberry-filled peanut-butter cups and thick swirls of peanut butter. The standout, though, is Blueberry Gobbler, with vanilla ice cream, blueberries, pie-crust pieces, and a blueberry-balsamic swirl. Plus, at $6, the pints are cheaper than most.
Davey's Ice Cream's Cool Corn
After quitting his job and opening his East Village shop in 2014, David Yoo is expanding in a major way this spring, operating as a food vendor at the new Canal Street Market, and also moving his entire production facility to Greenpoint (which will also have a retail component). That means new flavors! Exclusive to Canal Street Market are red bean, black sesame, matcha green tea, Thai iced tea, and cool corn — a flavor that should never be overlooked. Plus, at all locations, papaya sorbet and Adelegger-cheese ice cream, which Yoo promises is "weird but super tasty."
Victory Garden's Mermaid
Sophia Brittan closed the brick-and-mortar location of her goat's-milk soft-serve spot this fall, but as promised, she's still hard at work, selling gelato at Good Stock (which took over the space), and preparing to debut a cart in the Village. Her latest flavor, Mermaid, has a base of salty lemon with candied kelp mixed in — making it a oceanlike hue of blue. It's available by the scoop for $5 to $7, or as a pint for $10.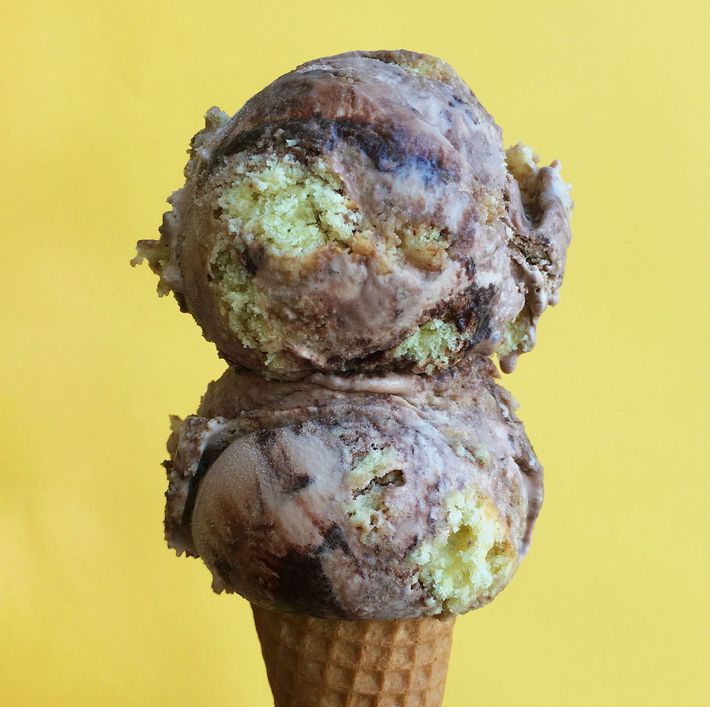 Morgenstern's Charred Chocolate Eggplant
Nicholas Morgenstern is working on charred ice creams that will debut after the Edible Schoolyard benefit on April 24: smoked Madagascar vanilla, burnt sage, charred chocolate eggplant, charred Japanese-yam-caramel, and burnt-lemon espresso. Sage is charred over an open flame and then steeped in cream, while the eggplant gets cooked in a skillet with olive oil and blended with 72 percent Felchlin chocolate — reminiscent of what you'd find at a fancy restaurant, not a quick-service ice-cream parlor.
OddFellows Ice Cream Co.'s Peeps Ice Cream
Ice-cream gonzo Sam Mason's Easter flavor elevates a childhood treat, combining sweet-cream ice cream with liquid-nitrogen-frozen Peeps (!). He's also debuting some lighter sorbets: kale-apple-lemon, pineapple-ginger-lemonade, and watermelon-cucumber.
Mah-Ze-Dahr's Housemade Soft Serve
Umber Ahmad, creator of the absolute best cheesecake in New York City (among other outstanding pastries), will launch ice cream in May — a tight menu of two signature soft-serve flavors, with housemade cones, sauces, and crumbles. She's still in recipe-testing mode, but it's safe to say one of the flavors will be chocolate-centric (a strength of Ahmad's).
Jeni's Splendid's Orange-Blossom-Buttermilk Frozen Yogurt
Columbus, Ohio–based Jeni Britton Bauer has a strong presence here in upscale grocery stores in New York, and her new flavors are unusual in the best way. Genmaicha & Marshmallows tastes like a Japanese Rice Krispies Treat; the Osmanthus & Blackberry Crackle makes use of Osmanthus flowers and stone fruits. But it's the fragrant frozen yogurt that's Grub's favorite — a grown-up Creamsicle.
Ample Hills Creamery's the Hat Trick
In collaboration with the Rangers (their first home game is Friday), Ample Hills just introduced a limited-edition flavor (available online and at all local scoop shops). It has a New York–cheesecake base and a "hat trick" of mix-ins — peanut-butter cups, fudge brownies, and red and blue M&Ms. Plus, in June, they'll bring back their annual "Baby, I Was Churned This Way!" Pride flavor, with salty hazelnut ice cream and chocolate-covered, rainbow-colored sunflower seeds.
Superiority Burger's Vegan Delights
Brooks Headley says cook Sheryl Rivas is steadily turning into his full-time pastry chef, and that she's figured out how to make next-level vegan gelato. "It's unlike any of the other stuff on the scene I've tasted, mainly because it isn't coconut milk–based," he says. "It's creamy and very rich, and totally infusible; so hopefully, by later in the spring, we will always have a vegan flavor that mirrors our regular flavor that changes daily."
McConnell's Strawberry-Rhubarb
Because of a new dairy (the first one built in southern California in nearly 60 years!), it's easier than ever to find the Santa Barbara–based company's pints here in New York (see: Murray's Cheese and Union Market). Third-generation, family-owned McConnell's makes everything from scratch and pasteurizes in house, using fresh farm milk and cream, and its new lineup includes strawberry-rhubarb (with local fruit preserves, cooked down until they're jammy), and a fragrant Earl Grey–tea flavor with buttery shortbread cookies.