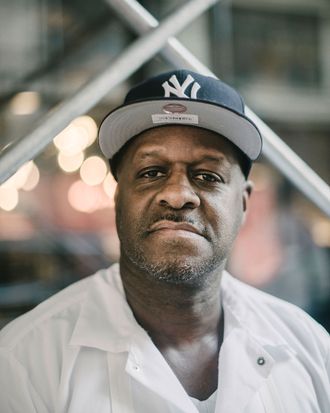 Leroy Green has worked at Pondicheri since November.
Photo: M. Cooper
Cooking saved Leroy Green's life. "Before, I could have been anywhere. I could have been in jail," he says. "That's the thing about this now. I can do what I say I'm going to do." Green, who's rarely without a Yankees cap, is a line cook at Pondicheri, the Indian café and restaurant in the Flatiron District. He's been there since November, and is an important part of the team — even though he didn't consider a career in food until after serving 15 years in federal prison.
As a kid, Green ran numbers at a candy store in Jamaica, Queens. The store's owner sold alcohol illegally, and marijuana. That's when Green began selling, and using — first marijuana and then, at 14, cocaine. "There was really no reason for me to be in the street," Green says. "I have a good family. I come from a good home, but as a teenager, I ventured off to the streets and became a drug dealer."
When Green was 16, he sold to an undercover cop. The ensuing arrest got him a week in jail. "Me and my big brain said, 'I wasn't going to get arrested again.'" So, when he got out, he hired people to sell for him. By the time he was 18, Green had one of the biggest operations in Jamaica, with close to 30 people working for him out of 10 apartments. "But that came crumbling down," he says. He was arrested and charged with his first prison sentence, a three-to-nine. He served three years. "The whole three years I did, I just thought, How am I going to do it better? Selling drugs. There was nothing else on my mind." Green got out in 1990 and had a six-year run. "In 1996, the federal government said enough is enough." Green was arrested again. "No bail," he says with a pause. "Never got out again until 2013."
Green was sentenced to 20 years, but he applied for clemency and was commuted under President Obama, whose criminal-justice-reform agenda looked to lessen the punishments for those who committed nonviolent crimes. "It was hard when I got out. I didn't have the money I used to have. I spent a year and a half doing the same shit that lead me to jail." Green says it was also difficult to reconnect with his two daughters, who were both young when he was sentenced. "After 18 months of running the street again, I felt like I was heading nowhere." Selling drugs, Green lived in his car until it was taken from him. With no roof over his head, and no other choice, he moved to a shelter. That's when he first heard about the Doe Fund, a nonprofit that provides transitional work, housing, and educational opportunities to people with histories of incarceration, homelessness, and substance abuse. Green was assigned a job at the Doe Fund, as all residents are, the day he moved in. "Ironically," he says, "they put me to work in the kitchen."
At each of the organization's locations, residents cook the meals that feed the other people who live there. Green, who currently lives at the Doe Fund in Harlem, excelled in the kitchen. "At first, it was just something to do, to keep me busy and out of trouble," he says. "But I like cooking. I like feeding people."
Green was a cook in prison. He was familiar with kitchens and cooking, and he knew service and the basic day-to-day task of feeding people. "In federal prison, they put you to work in a lot of places," he says. "Baking was the best because you can start and finish your product without anyone else interfering — it's your product." Green worked the line at breakfast, too, making eggs to order. He took his time in the kitchen, which wasn't necessarily what people were looking for, he explains. "I didn't enjoy cooking in prison because nobody cared about the food." Now that he's out, however, that love of cooking made him a perfect candidate for a new program within the Doe Fund. Cooking, Green says, "didn't have a purpose until Chef-in-Training — that changed everything."
The Doe Fund's Chef-in-Training program is an eight-week, hands-on course that teaches students to work on a New York City restaurant's line. It was introduced in December 2015 as an extension of the Doe Fund's Ready, Willing & Able transitional work program, and it's the brainchild of Doe Fund employees John Kirkland, Jennifer Dillon, and Gino Dalesandro. Standing in the kitchen at the Gates Avenue Doe Fund location in Bedford-Stuyvesant, where the class is taught, Kirkland says he saw a need for the class after learning of the industry's dearth of line cooks.
"To find great cooks is nearly impossible," Jake Finder explains. Finder owns Gristmill in Park Slope, and has ads all over the place for a dishwasher, sous-chef, and cook. "I'm getting chef applicants and dishwasher applications," he says. "No one wants to cook."
Almost every chef in the city seems to echo this sentiment. "It's really hard today," says Dan Kluger, "and it seems to be getting worse and worse." Kluger runs Loring Place in Greenwich Village, and has cooked in New York for 20 years, working for chefs like Tom Colicchio and Jean-Georges Vongerichten. "Eight to ten years ago, cooking was booming," he says. "Everybody wanted to be a chef, and today, while I think it's still an incredibly popular industry, there are so many other opportunities within the industry."
"New York is a brutal city for finding line cooks," Anita Jaisinghani agrees. "That's been our toughest challenge here." Jaisinghani owns Pondicheri, the Houston-based Indian café with a Manhattan outpost that opened last year. Jaisinghani brought her concept to New York unaware of the problem: "That was a detail no one told me about."
Andrew Rigie, director of the NYC Hospitality Alliance, outlines some of the causes for the problem. "There are more than 24,000 eating and drinking establishments in New York City," he explains. "It's very competitive. A lot of cooks are jumping from restaurant to restaurant, where historically many worked in the same kitchen for years, and often their entire career."
Rigie also mentions a spike in high-end, corporate kitchens, plus delivery-only restaurants that cater to the lunch crowd and offer employees a more traditional (and often more desirable) 9-to-5 schedule. Manhattan restaurants are also losing cooks to restaurants in outer boroughs, and even other cities, where the cooks can pay cheaper rents and work nearby.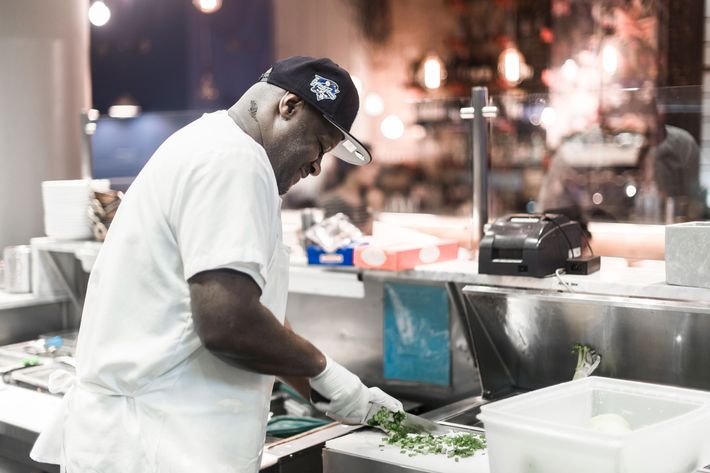 Kirkland first learned of the city's line-cook problem during a conversation with Rigie in early 2015. "I saw the need to develop a training program to get people into these jobs," Kirkland says. "There are amazing people that have awful things happen to them," he adds, "but are now in a place where they can be an asset to an industry." The problem, as he saw it, was that potential workers lacked access to necessary training: "You need to understand how things work in the kitchen." To remedy this, Kirkland and his colleagues looked for a chef who would be able to train potential employees.
Justin Fertitta applied. He grew up outside Chicago, graduated from the Culinary Institute of America, and has worked at the Waldorf Astoria and Aquavit. At the Doe Fund, he's taken his experience and training, and condensed them into a program that takes weeks to complete, instead of years. He hands me a 50-page booklet, and explains, "Everything I learned in culinary school is in our curriculum." It covers topics like Auguste Escoffier, the traditional brigade system, Balthazar's menu, egg cookery, notes on Chef's Table, diagrams of every kind of knife you could imagine (and how to use and care for them), mother sauces, and the variations of roux. Students are eligible for the class only after obtaining their food handler's license (for which there is another class in place).
Fertitta taught three classes last year. Green is a graduate of the second. "The best one," he says with a smile. "We did Italian food, Thai food. Justin took me around the world with different spices. He gave me a purpose — before I was just doing it."
Each Chef-in-Training class can accommodate up to 15 students. This year, with a grant from the State Street Foundation, the Doe Fund is able to add a fourth course, raising the number of total program graduates and potential line cooks to 60. The program has a 75 percent job-placement rate in food services. Ten graduates are currently working full time in restaurants, and an additional five have found food-service positions outside of restaurants. Green landed at Pondicheri after responding to an ad he saw online.
"For us, people are people," Jaisinghani says, aware of Green's past, "and any company is as good as its people. I had a good feeling about Leroy," she goes on, "but I've had good feelings about other people that didn't make it past the first two weeks. He's been with us for a few months now, and everyone likes him. It's good. He's definitely become a main part of our team."
"Cooking has given me my life back," Green says. "When I'm cooking, nothing bothers me. It's a challenge. It's a tough business. If you're looking for an easy job, this is not it. But I'm looking to move up and make it easier for myself."