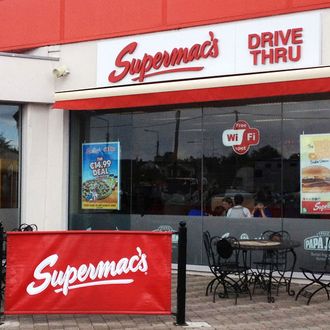 A burger chain based in Ireland is complaining that it's become next to impossible to include Mc or Mac in your business's name, because of a certain omnipresent corporation. Supermac's, the multi-million-dollar chain owned by entrepreneur Pat McDonagh operates over 100 stores, and is trying right now to expand into Europe. Earlier this year, the EU rejected its application to use its brand outside of Ireland, thanks in no small part to "intense opposition" by McDonald's, which argued there was the "likelihood of confusion" for its products like the Big Mac and Chicken McNuggets.

Supermac's has now responded by accusing the American burger giant of "trademark bullying," and has asked the EU's Intellectual Property Office to cancel entirely McDonald's "Big Mac" trademark in Europe. It argues that McDonald's is registering Irish-sounding names that are then "simply stored away in a war chest to use against future competitors." It's true that Supermac's could seem like maybe not the best choice for the name of a burger chain founded in 1978, one year after Ireland got its first McDonald's. But McDonagh claims it was a sports nickname he earned in college, and besides it's sort of like the name Smith in America, where consumers have to navigate Smith Frozen Foods, Smith Natural, Smithfield Foods, Smith Foods, the Smith's chain of grocery stores, and Foster and Smith, a dog food available at Petco.
The chain's complaint goes on to note that McDonald's, with its deep pockets, has acquired everything from McWorld to McToast to McNoodle. "It is trying to make sure that every word in the English language belongs to them if there is prefix Mc or Mac put in front of it," McDonagh tells the Irish Times. "They have trademarked words like McKids, McFamily, McCountry, McWorld, McJob, and McInternet in order to, over time, squeeze out smaller family based businesses." He adds this means "any McGrath, McCarthy, or McDermott with a business idea" who wants to use their name "can probably expect a knock on the door" soon from Mickey D's.