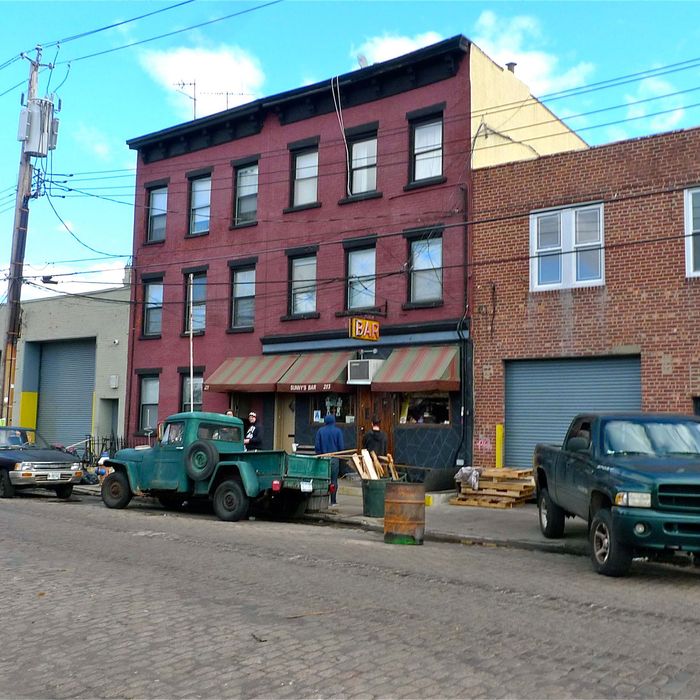 Sunny's is a New York institution.
Photo: Hugh Merwin
New York's restaurant scene is defined, in part, by its eccentric institutions — places like, of course, Sunny's. The Red Hook bar has been open in one form or another since the 1890s, once catering to now-gone longshoremen before becoming a dive for weirdos and, eventually, earning a place as one of New York's essential bars. As Grub Street wrote back in 2013, "there is nothing else like it in the city." For that reason, and its lengthy history in a city often eager to bulldoze the past, it's a place worth preserving. But to do that, owner Tone Balzano Johansen, widow of Sunny Balzano, needs to raise $50,000 by July 31 in order to keep the bar open.

Johansen needs that money to complete her $2.6 million purchase of the bar's building from the rest of the Balzano clan, many of whom have wanted to sell the building since 2012. That year, Hurricane Sandy flooded the bar with five feet of water (almost killing Johansen, who was briefly stuck in the basement), caused $100,000 worth of damage to the bar, and made the neighborhood's vulnerability to climate change clear. To that end, Johansen has started an online fundraiser and has put on events, including an upcoming art sale and auction at Sunny's on May 1. She's also donating sales from Mondays, when the bar has normally been closed. If every New Yorker who's had a good time once at Sunny's donated a dollar, well … they'd raise a lot more than $50,000.