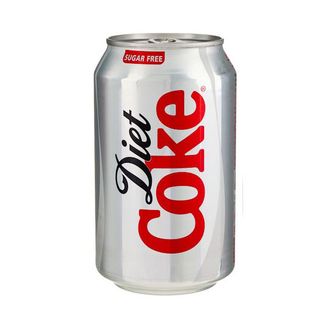 There's always canned water.
Some bad news for people who scoff at unhealthy sugary sodas between sips of Diet Coke. A just-released study argues that drinking a lot of artificially sweetened beverages may put you at a higher risk of developing several terrible diseases. Published yesterday in the journal Stroke, it found that people who drink diet soda every day are three times more likely to develop a stroke or dementia than people who consume it weekly or less. The study's data come from the renowned Framingham Heart Study, a longitudinal survey of over 5,000 participants that first began in 1948, but has since grown to include those participants' kids and grandkids (it's pretty thorough, in other words). The authors looked at 2,888 people for stroke and 1,484 for dementia over a ten-year period, but they say consuming sugary drinks wasn't a risk factor based on the data, a phenomenon they call "intriguing."
Artificial sweeteners may already put people at risk of diabetes, weight gain, and other types of heart disease. But the authors note several limitations in their study, the biggest one being something they call a case of "reverse causality," in which "sicker individuals consume diet beverages as a means of negating a further deterioration of health." NYU nutrition expert Marion Nestle tells MedPage Today that those limitations are worth keeping in mind, and that she wishes the authors "had offered a plausible hypothesis for how artificial sweeteners could be causally related to stroke and dementia." The soda industry's big lobby, meanwhile, was also quick to harp on the limitations in the statement it released: "While we respect the mission of these organizations to help prevent conditions like stroke and dementia, the authors of this study acknowledge that their conclusions do not — and cannot — prove cause and effect."
While it's unclear what mechanism might be causing this, the message, one researcher notes, is "absolutely" not to go back to sugary drinks. In fact, a separate, new study just found a "striking" correlation between consuming regular sodas and showing the early signs of Alzheimer's, things like smaller brain volume and bad memory.