It appears Starbucks is about to release a drink it's christened the Unicorn Frappuccino. For the past few days, baristas on Reddit's Starbucks page have been posting pictures of pink and blue powders, as it arrives in stores. Based on drink pics that have also already emerged, the beverage is believed to be some combination of white mocha, mango, and the powder, topped with whipped cream and tons of acid-trippy sugar sparkles that come in a separate shaker, labeled (seriously) "Unicorn Dust." (The powder in this very Instagrammable, new drink is also allegedly sour-apple flavored, so this isn't for the person who takes their coffee straight.) Employees on Reddit say stores are supposedly getting the official recipe cards today, which should confirm whether there's any truth to these theories.

However, if this store poster that barista @layamariesuvada put on Instagram two days ago (then suddenly removed this morning) is any indication, Starbucks is going all-in on this thing: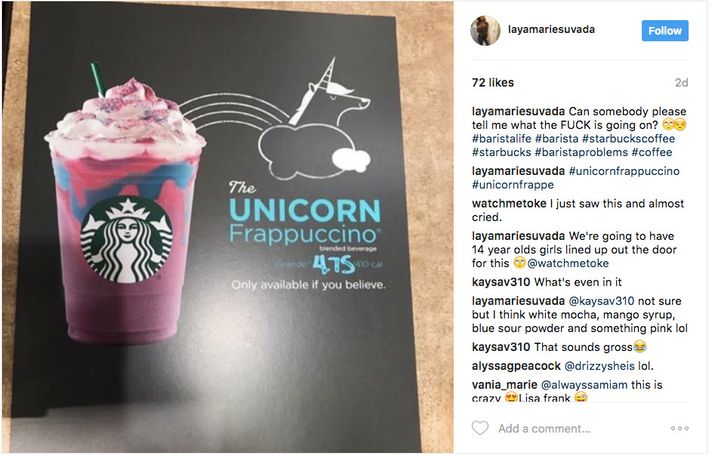 Rumor is, the drink will debut on April 19. One redditor suggests the drink is Starbucks's "attempt at marketing towards the 'glitter' tween crowd." Frankly, though, the timing's a bit more suspicious. Just like Ben & Jerry's giant ice cream Brrr-ito before it, nobody releases something this drug-inspired on the eve of 4/20 without knowing precisely what they're doing.
Update, April 18, 2017, at 12:15 p.m.: Starbucks has confirmed everyone's greatest hopes and fears: The Unicorn Frappuccino — officially a creme base with mango syrup, a "pleasantly sour" blue drizzle, whipped cream, and a dusting of pink and blue powders — will be available in stores from April 19 until April 23, a time period "as fleeting as a rainbow."