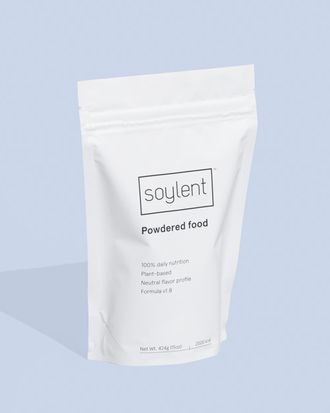 Silicon Valley needs to disrupt Soylent's meal replacements.
Photo: Soylent
Meal-replacement-maker Soylent, which has gone six whole months without issuing a new product recall, says it sincerely hopes customers weren't drinking Soylent 1.8 Powder if they're dairy-intolerant or vegan. Because, well, that wouldn't be great news for those people, according to a notice the company has put out, warning that a little "undeclared milk" seems to have slipped into several bags:

Soylent, Los Angeles, CA is voluntarily recalling 890 boxes of Soylent 1.8 Powder, because it may contain undeclared milk. People who have an allergy or severe sensitivity to milk run the risk of serious or life-threatening allergic reaction if they consume these products.
It says the "milk-containing product" in question was "handled adjacent" to Soylent's powder. Soylent is blaming a third-party manufacturer, saying that a "temporary breakdown" in the facility's production process allowed the dairy to potentially infiltrate batches of its powder, which is marketed as "lactose-free," "animal-free," and "vegan." In the announcement on the FDA's site, the company adds that it hasn't received any reports of illnesses so far. It says that, in total, 890 boxes run the risk of being contaminated (they have a SKU of 1WK-V108, a lot number of G7076PA, and an expiration date of February 2018).
Also, a quick PSA that this is technically Soylent's fourth recall in 18 months. The first (for Soylent Drink) came after some sort of manufacturing glitch made bottles conducive to mold growth. The second (for Soylent Food Bar) and third (for Soylent 1.7 Powder) came after a common ingredient made with algae started giving customers "uncontrollable" diarrhea. Soylent also canceled orders for literally its only other product, Coffiest, around the same time, after realizing certain micronutrients were exceeding "declared levels" — but in its mind, this never reached a recall-level snafu.