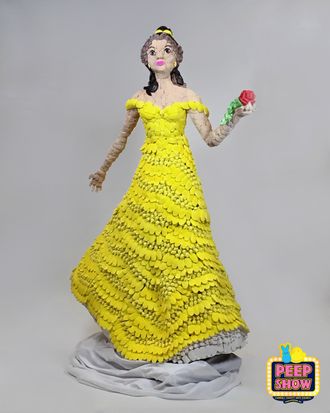 The Washington Post may have canceled its annual Peeps contest, but Easter is not wholly ruined. The competition was storied, yes, but the paper's celebration of sugar and artificial dye was just one of the many that occur in America during April. This year, Maryland residents appear to have taken up the marshmallow-revelry mantle in the Carroll County Arts Council's tenth annual PEEPshow — a competition that was initially modeled after the Post's — and the contestants went all out. Take for example, this life-size version of Disney's Belle, which required a veritable truckload of the mustard-yellow Peeps.
The website Delish got in touch with Belle's creator, a baker named Candace Birger, and learned that it required conjoining 1,500 marshmallow chicks of various colors. The other entries are equally ambitious: There's a total of 151 other entries that contain anywhere from one to 7,500 Peeps, and they run the full gamut — from cute ("Peepington Bear") and literary ("Edgar Allan Peep"), to downright weird ("Peeptri Dish") and potentially criminal ("Peeping Tom"). There's even a diorama version of that actual Frankenfood known as the Peepza, where the marshmallows replace acceptable pizza ingredients, that involves zero pizza.
Here are a few others from the contest's current leaderboard.