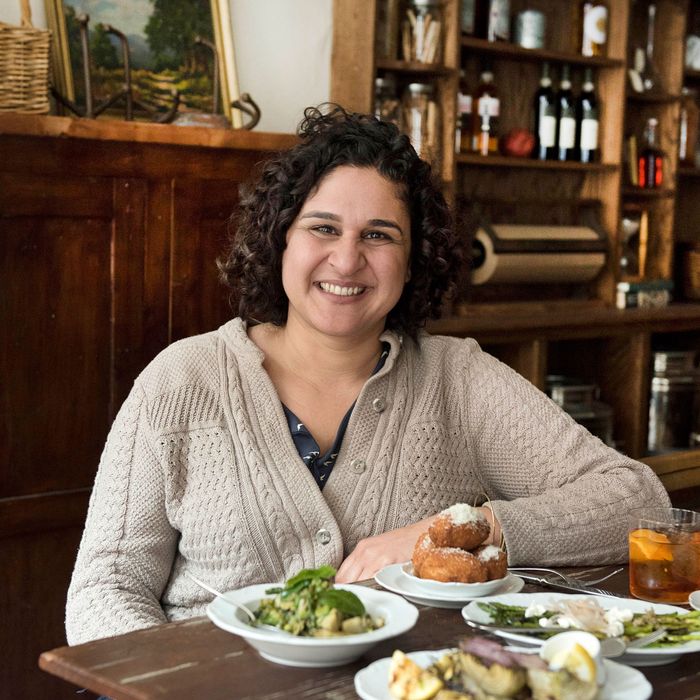 At Via Carota.
Photo: Liz Clayman
After spending years cooking at Chez Panisse, and famously teaching Michael Pollan how to master techniques, chef and writer Samin Nosrat's debut cookbook — Salt, Fat, Acid, Heat: Mastering the Elements of Good Cooking — came out this week. She traveled from her home in Berkeley to New York to promote the book, celebrated by eating at her favorite local spots (Via Carota, Taïm, Bien Cuit), and popped some Champagne. Read all about it in this week's Grub Street Diet.
Thursday, April 20
In Berkeley. I woke up and took my vitamins and antidepressants. I was leaving the next morning, so that was a weird "running errands before you go away for ten days" day. Normally, I have an office that I go to in Oakland, but that day, I stayed in my neighborhood. I had a gluten-free bagel and did some work, and then walked to the Cheese Board and had an iced coffee before therapy.
Chez Panisse is right in my neighborhood, and on the same block as my therapy. I had copies of the book that had just come in, so I brought some to drop off for everyone there. And they were doing a dessert taster, so I had rhubarb tart and almond cake, which were really good. I always sort of elbow my way in if they're having tastings. If I'm walking by on the street and they see me, they're like, "Oh my god, can you come clean some fava beans?" I always say hi to everyone there. It's a nice way for me to really keep up-to-date on the micro-seasons, because they always have everything coming in first to Chez Panisse. Every farmer wants to send their first celery there first.
Then I went to therapy, and then I had a little more coffee, and then I just walked a couple of blocks to my friend's house and hung out with her, and we ate weird Easter leftover things — quinoa salad, ham, and grilled veggies — and smothered them in spicy green sauce. I did more errands, and grabbed a tangerine LaCroix and Passionberry kombucha from the fridge. I've been a pamplemousse diehard until recently, when I accidentally bought tangerine and actually liked it.
I met my friend and her family in our neighborhood for Chinese food. It wasn't that exciting. Delicious sesame pancakes, though.
Friday, April 21
I had to get up at 4 a.m. for my flight to New York, so the whole day was sort of off, but I tried to pack some healthy(ish) snacks for the plane, and I have vitamins, antidepressants, and Babybel cheese before I hit the road.
On the plane, I had airplane coffee, beef jerky, strawberries, almonds, and Babybel. I'm kind of off in the morning, and I can never decide if I want to try to sleep on the plane or not.
Then I got to New York and I was hungry in the cab, so I found two more Babybel cheeses. Then when I got to my friend's house in Brooklyn, they had made shepherd's pie with sweet potatoes, and a big salad. They have kids, so I had Easter jelly beans for dessert.
Saturday, April 22
I went over to my friend and New York Times editor Emily Weinstein's house for breakfast, but first, I made myself a coffee, and snacked on a little Easter ham and kale.
Emily lives in Park Slope, and I was touched that she went out and got the "good bagels" for me from Bagel Hole. She also offered me multiple varieties of cottage cheese. I'm deep in a cottage-cheese phase this year, so we discussed it at length. To her, only Friendship is acceptable; I'm still familiarizing myself with the New York brands. I had a warm sesame bagel (my first warm-from-the-oven bagel!) with scallion cream cheese, and an iced coffee.
I walked to the farmers' market in the rain and had an apple-cider doughnut, but they were out of cider! I came home to my friend's house, and I made a sandwich out of leftover Easter ham. And then I had to do this very funny and strange event on Saturday and Sunday, where I had to go to the Jaguar booth at the New York Auto Show and sign books for VIP Jaguar people, LOL. I snacked on some nuts and raisins that I had in my bag. And it was interesting because not one person on the first day knew anything about Chez Panisse; they didn't know anything about Michael Pollan. And I was like, Okay, I'm outside my bubble. Everyone was really, really nice, but it was this wake-up call that the food world is a tiny, tiny, tiny, tiny world.
The friends I was staying with came to the auto show to check out Volvos and meet me. We were starving and hadn't thought to make a dinner reservation at Cookshop, and the wait was really long, so we came home and ordered pizzas and salad from my favorite place in their neighborhood, Table 87. There is simply nothing like a New York coal-oven pizza. I always drown mine in Calabrian chiles!
I should explain: I have this weird autoimmune disease — Hashimoto's, which is a thyroid disease. I have sort of a gluten threshold that I try to stay under, but when I come to New York, it always ends up being horrific because all I want to do is eat pizza and noodles. So I have to do this thing where half of the things I eat are gluten-free, and then I'm like, "Let's have bagels and pizza for dinner."
Obviously, I had more Easter jelly beans before I went to sleep.
Sunday, April 23
I got up early, made a coffee, packed up, and left Brooklyn. Vitamins, meds. I checked into the Parker Meridien in midtown, went to the gym, and rushed down to Food52 for a cooking demo during their spring pop-up. I ate lots of odds and ends during my cooking demos — boiled broccoli and asparagus, carrot sticks, caramel sauce, green-goddess dressing. And I tasted all of the Ample Hills flavors at the pop-up, including cinnamon burnt toast! One of them had banana and Nutella in it. That was my favorite.
Sweetgreen had been there the day before, and there were a bunch of salads left over in the fridge, so I grabbed one and ate that before I headed back to the Javits for round two. More nuts and raisins.
I was starving by the time I got back to the hotel, so I went to Burger Joint and ordered a burger (medium-rare) with spicy slaw. When I checked in, I was like, I'm only going to go to Burger Joint once while I stay here. And then, obviously, I used it on my first meal. So I brought it upstairs and found that my friend, Josh Morgenthau, had sent over a bottle of his delicious, new Treasury Cider from his upstate farm, Fishkill Farms, that I'd been wanting to taste. It was the perfect accompaniment to the burger and very spicy slaw.
Then I took a nap. I was like, Should I just turn this nap into all-night sleep? Because it was a 7 p.m. nap. And then I willed myself to go get snacks and stuff, so I walked over to the Whole Foods. I'm the old lady who always has a snack in her bag. I got local bread. I was like, I'm just going to have PB&J with me at all times, every day this week, in case I get hungry. I also got a whole bunch of Babybel cheeses, green juice, and white-cheddar popcorn.
I went up to the pool, which overlooks Central Park, and floated for a while, thinking about how strange it was to be in a pool on top of a hotel in NYC right before my book comes out. Surreal! I ate popcorn, and green juice, and half a PB&J sandwich in my room, and crashed.
Monday, April 24
Vitamins, meds. I went to Brooklyn with Wendy MacNaughton, who illustrated my book, to sign books at Books Are Magic, which is doing a little preopening this weekend. I'm so sad about BookCourt being gone, but it's really awesome.
When we got off the subway, I was like, "I want to go to Bien Cuit!" They do that thing that Tartine does at home, which is that they bake things so hard. They make everything so dark. And my whole thing is, I love chocolate-chip cookies that are really brown. I like everything to be really brown. I'm like, Don't eat the croissant! Don't eat the croissant! I ate the artichoke-and-goat-cheese croissant. Best lunch ever.
Then we went to my favorite New York restaurant, Via Carota, where I was meeting my agent and the VP of my production company for a celebratory lunch. The book is being turned into a docuseries. I get to go to nine countries. I made up the number nine. Many countries. So that's crazy. I've been a cook since I was 20 years old. I have worked for $10, $12, $14, and $18 an hour. And then I became a writer, which, as you know, is an equally not-so-lucrative career — and this very interesting and wonderful and strange thing, to have this moment where, all of a sudden, the world is recognizing you. You all of a sudden have legitimacy, after so many years of just being a person who had her head down, working her butt off, feeling always sort of overlooked. So I've gone to a lot of therapy, as I've mentioned. This is an interesting week to be doing this with you, because it's just a really fun and weird week in my life. There has never been something like this. And in a lot of ways, I've been looking forward to this week for a long time. And in some ways, dreading this week for a really long time.
I always get certain things at Via Carota, including the bicicletta, the grilled artichokes with mayo, the burrata, and the huge butter-lettuce salad. We also had arancini; a beautiful, ethereal shrimp and squid fritto misto; grilled asparagus; and this insanely delicious sauté of artichokes, favas, peas, and asparagus with mint. I love this place. It's a vegetable extravaganza. That you can eat an entire meal of just vegetables, that's my dream life. And I said that to Jodi, and she was like, "Yeah, everybody gets pissed because when Rita and I go out to restaurants, we just order all the vegetable sides." And I was like, "Me, too." And so they just made a restaurant that's all vegetable sides.
I did a few more errands, ate my bag PB&J, the rest of my green juice, and a kombucha as my p.m. snack, before I had to go out to record the Longform Podcast in Brooklyn. Exhausted, I came back to the hotel, walked to Whole Foods, and made myself a taco salad from the hot and salad bars.
Wendy came back to the hotel after an event, and we met downstairs. She was starving, so we went to Burger Joint so that she could get a bite, and I ate most of her fries while we befriended a stranger. There was a lady in a booth, so we were like, "Can we share this booth with you?" And she said, "Oh, absolutely." She was a New Yorker who lives in the neighborhood and said, "What're you doing here?" And then Wendy, who's a total ham, said, "Just so you know, you're sitting with the future Julia Child; her book is coming out tomorrow." And so the lady threw her hands up in the air and was like, "Oh my god. Please give me an autograph!" It was a very embarrassing and funny interaction.
Then we went to the hotel bar to celebrate our pub day at the stroke of midnight. I had an elderflower spritz; she had a bourbon on the rocks; and we ate all of the smoked almonds the server brought us. Wendy and I are so happy that we're still friends. In the beginning, she was like, "We may never talk to each other again at the end of this." But it's been such a good collaboration.
Tuesday, April 25
Coffee! Vitamins and meds! PB&J for the bag!
I went downtown for an event at Condé Nast, but it got canceled, so I went to McNally Jackson to replace my favorite book-signing pen, which I had left at Books Are Magic. And then I went to Taïm, my other very favorite New York place that I go to on every single trip. I had a harissa-falafel sandwich with zhug, pickles, and spicy peppers, and a pomegranate-honey tea.
I went to go see my friend, writer Tamar Adler Olivier, on the Upper West Side, and I met her baby, and we had a glass of rosé to celebrate pub day! Then I went back to the hotel, where Wendy surprised me with Champagne!
I stuffed my pockets with Babybels, and we went to meet Julia Turshen at this place, Sfoglia, which is across the street from the 92nd Street Y. We were kind of late, so we just ate a little bite in there, and then went into the Y. I had packed all these Babybel cheeses in my pocket, so I was giving them out to everyone. I was like, "You need your protein!" I also had some salami and burrata and breadsticks that Julia had already ordered.
And then we did our event at the 92Y. Our friend Jill brought Wendy a big bag of Cadbury mini-eggs, so I ate a bunch of those while we signed books. Then we went to Flora Bar, where they made us a million delicious snacks, including these fantastic potato-and-cheese croquetas, and delicious jícama-and-olive salad. Prosecco up the wazoo.
My friend Laurie Ellen Pellicano, a fantastic pastry chef, brought me and Wendy a huge bag of rhubarb thumbprint cookies, so we came back to the hotel and drank the rest of the Champagne, ate those, checked Twitter, and went to bed.
* This post has been edited to remove a line that mischaracterized Nosrat's thoughts on Chinese food.